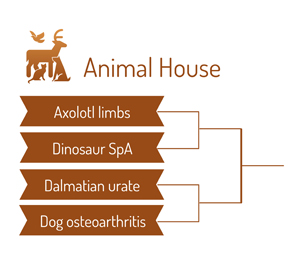 Editor's note: RheumMadness is the place for everyone crazy about rheumatology to connect, collaborate, compete and learn together. During RheumMadness, rheumatology concepts represent teams that compete against each other in a tournament, much like basketball teams do in the NCAA's March Madness tournament. In a series for The Rheumatologist, readers will get a chance to read the scouting reports for each concept team. These reports are written by rheumatology fellows from 13 programs throughout the U.S.
You Might Also Like
Explore This Issue
May 2022
Don't forget to submit your RheumMadness 2022 bracket by March 25. The more your picks match those of our Blue Ribbon Panel of rheumatologists, the more points you get. Learn more about the panel and how the brackets work online.
ADVERTISEMENT
SCROLL TO CONTINUE
Connect with RheumMadness by subscribing to the podcast and joining the conversation on Twitter, #RheumMadness. Learn more on the RheumMadness website.
Region: Animal House Team: Dalmatian Urate
Humans and great apes are the only mammals that lack uricase, an enzyme that metabolizes purines into allantoin, which is easily excreted in urine. Instead, in hominidae, purines are broken down into uric acid, which in elevated levels can lead to gout.
Dalmatians, like most mammals, possess uricase. Unlike other dog breeds, they have defects in both renal tubular reabsorption of filtered urate and the hepatic conversion of uric acid to allantoin. Thus, Dalmatians can provide unique insight into uric acid homeostasis. Although these defects roughly offset one another, they still lead to elevated urinary uric acid levels that increase the risk of uric acid nephrolithiasis in Dalmatians.1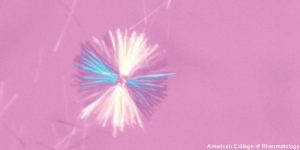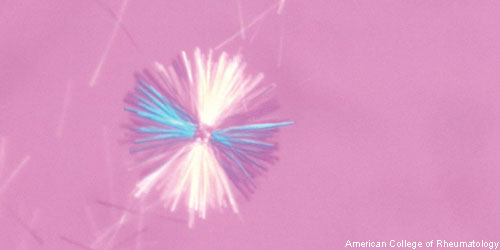 Organ transplant studies have helped elucidate the specific driver of elevated uric acid in the Dalmatian breed. Reciprocal renal transplants between Dalmatians and mutts (i.e., non-breed dogs) demonstrated that transplanted donor kidneys assumed the urinary excretion pattern of the recipient.1 In contrast, a study of reciprocal hepatic transplants showed that the urinary excretion and serum urate of the recipient followed that of the donor liver. These findings suggest the liver is the main driver of uric acid metabolism in Dalmatians.
ADVERTISEMENT
SCROLL TO CONTINUE
Initially, this phenomenon was hypothesized to be due to the presence of a promoter of urate uptake in the mutt liver or an inhibitor of urate uptake in the Dalmatian liver.
Further studies showed that with successful engraftment of mutt hepatocytes into Dalmatian livers, the Dalmatians experienced a decrease in serum urate levels and a decrease in urinary uric acid secretion. This finding suggests livers of mutts promote transport across hepatic membranes, as well as across renal cell membranes. The authors suggest this driver, evidently missing in Dalmatians, may be a circulating hormone—similar to insulin—that regulates the mobilization of the URAT1 transporter.1