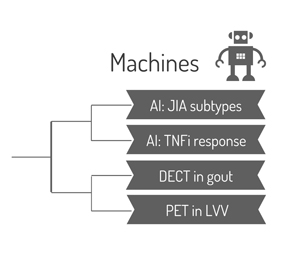 Editor's note: RheumMadness is the place for everyone crazy about rheumatology to connect, collaborate, compete and learn together. During RheumMadness, rheumatology concepts represent teams that compete against each other in a tournament, much like basketball teams do in the NCAA's March Madness tournament. In a series for The Rheumatologist, readers will get a chance to read the scouting reports for each concept team. These reports are written by rheumatology fellows from 13 programs throughout the U.S.
Don't forget to submit your RheumMadness 2022 bracket by March 25. The more your picks match those of our Blue Ribbon Panel of rheumatologists, the more points you get. Learn more about the panel and how the brackets work online.
ADVERTISEMENT
SCROLL TO CONTINUE
Connect with RheumMadness by subscribing to the podcast and joining the conversation on Twitter, #RheumMadness. Learn more on the RheumMadness website.
Region: Machines Team: DECT in Gout
Gout is such a pain in the toe. It's one of the most common forms of inflammatory arthritis in adults, yet the diagnosis can be polarizing. The diagnosis of gout typically involves the detection of monosodium urate crystals in synovial fluid or other tissue samples. Despite being the diagnostic gold standard, this approach poses challenges, namely the unpredictability of synovial fluid specimen sampling (Did anyone say, "dry tap"?) and inaccurate recognition of crystals on polarized microscopy (*squints* Is that a crystal or glove dust?).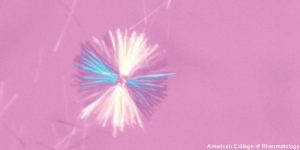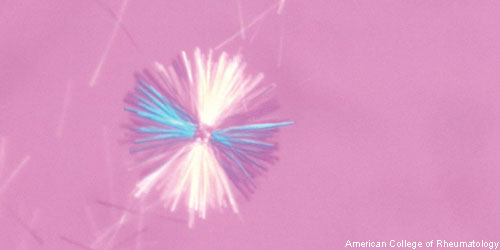 Due to the fundamental differences that exist between treating gouty arthritis and other types of inflammatory arthritis, the inability to precisely detect monosodium urate crystals may lead to needless, ineffectual and potentially harmful treatments.1,2
If you are like us—with a fist to the sky crying out, "There must be another way!"—you've come to the right place.
ADVERTISEMENT
SCROLL TO CONTINUE
Repurposing of non-invasive imaging techniques, such as dual-energy computed tomography (DECT) and ultrasound, has led to consequential advances in the diagnosis of gout. To analyze the diagnostic accuracy of DECT, ultrasound or a combination of the two for gout of the feet and ankles and/or knees, a prospective study was performed over approximately three years with 147 patients at a single outpatient rheumatology clinic in a tertiary care hospital.
The patients were mainly middle-aged men with a mean duration of symptoms of 9.2 years. One-third of the patients underwent synovial fluid aspiration with 79% had monosodium urate crystals (gold standard). Two-thirds of the patients met the modified 2015 ACR EULAR gout classification (silver standard). The study investigated: