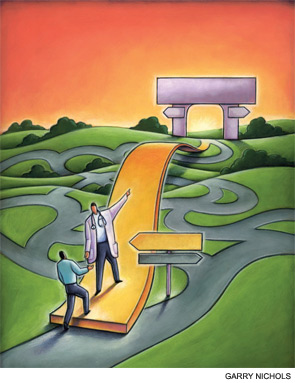 I didn't go into medicine to be a mouse doctor," says Barbara K. Finck, MD, recalling a time early in her career when she was working on murine models of lupus erythematosus and gaining a reputation as a top-tier mouse immunologist. She had always been interested in scientific research, she says, and the ability to transition from an idea to the laboratory to the clinic is a real interest of hers. She had an opportunity to go to into the pharmaceutical industry, and she took it. Within several years she was the lead medical director at Immunex for etanercept (Enbrel), a drug that changed the face of clinical rheumatology. "It's been a nice career," she says.
What is it like to be a rheumatologist working for industry? What are the advantages? The trade-offs? What reaction can you expect from former colleagues outside of industry? What distinguishes different pharma companies from one another? What is life like on the inside for a medical doctor? We asked some rheumatologists who made the leap to industry careers.
ADVERTISEMENT
SCROLL TO CONTINUE
Different Paths to a Similar Destination
John C. Davis, Jr., MD, MPH, started working at Genentech about three and a half years ago, following on a distinguished career at the University of California, San Francisco (UCSF), where he had been an associate professor of medicine in the division of rheumatology and director of the clinical trials center, lupus clinic, and ankylosing spondylitis clinic. Dr. Davis served on the U.S. Food and Drug Administration (FDA) advisory panel for arthritis medications and was chair of the Spondyloarthritis Research and Treatment Network. He is now a group medical director and head of the inflammation group in early clinical development at the South San Francisco–based company.
"I have a passion for clinical research," says Dr. Davis. "I have always had an interest in finding better drugs for our patients. I was doing that on a more narrow scale in academics, but new medications, for the most part, do not come from academic institutions," he notes.
ADVERTISEMENT
SCROLL TO CONTINUE
"Coming into industry gives me the potential to affect many more patient lives and to work with more clinical indications as well," he says, adding that he currently oversees the development of small and large molecules for the treatment of inflammatory disorders, including rheumatoid arthritis (RA), lupus, inflammatory bowel disease, and ophthalmologic and neurologic disorders.
Dr. Finck, who is now chief medical officer at NKT Therapeutics, Inc., began her career in healthcare when she received her nursing training at Massachusetts General Hospital in Boston, and continued when she graduated from medical school at UCSF. She stayed at UCSF to do her primary care and rheumatology training. At that time, there hadn't been any new drugs available to treat rheumatologic diseases in decades, she notes, and there was even talk of folding rheumatology in as a subspecialty of primary care. She says she relished this aspect of rheumatology practice: "When you took care of really sick patients who had lupus or scleroderma, for example, you almost became their primary care physician anyway." But Dr. Finck also had an affinity for the leading edge of research and she liked running clinical trials. "At that time, grant money was very tight and very hard to get," she recalls, adding that writing grant proposals was a major effort that took time away from teaching, clinical work, and running a lab.