You Might Also Like
Explore This Issue
December 2013
Also By This Author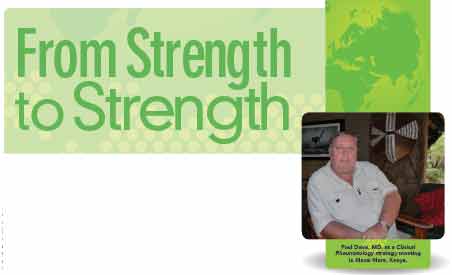 Paul Davis, MD, at a Clinical Rheumatology strategy meeting in Masai Mara, Kenya.

After eight years as editor-in-chief (EIC) of Clinical Rheumatology, Paul Davis, MD, is trading editorship for partial retirement in December 2013. His tenure has been a success, according to both him and his colleagues, and Clinical Rheumatology enjoys international respect and prestige. Under Dr. Davis' guidance, the journal saw significant growth in the number of papers submitted and international reach, as well as a twofold increase in its impact factor. To accomplish these feats, Dr. Davis focused the mission and content of the journal, and he appointed four associate editors to promote the journal worldwide.
ADVERTISEMENT
SCROLL TO CONTINUE
A Clear Mission
Clinical Rheumatology is the journal of the International League of Associations for Rheumatology (ILAR), the executive committee of which consists of the presidents and presidents-elect of the ACR, African League of Associations for Rheumatology (AFLAR), Asian Pacific League of Associations for Rheumatology, (APLAR), European League Against Rheumatism (EULAR), and Pan-American League of Associations for Rheumatology (PANLAR). Together, the members of ILAR have a mission to support global progress in rheumatology practice and education.
Believing in this mission, Dr. Davis focused Clinical Rheumatology to promote the same, to make the mission of the journal congruent with the mission of ILAR and grow its international reach. He appointed four associate editors to accomplish this, one each from AFLAR, APLAR, EULAR, and PANLAR. Their role was to promote the journal in their respective regions and advocate for the journal to "anyone who would listen," Dr. Davis says. "Word gets 'round and people start looking at the journal more seriously, and I think people are taking Clinical Rheumatology more seriously than perhaps 10 years ago."
ADVERTISEMENT
SCROLL TO CONTINUE
"The journal has gone from strength to strength under Dr. Davis," says Ade Adebajo, MD, professor of rheumatology at the University of Sheffield in Sheffield, U.K., and an associate editor of Clinical Rheumatology who worked with Dr. Davis for six years. These strengths include that "Clinical Rheumatology is now a well-respected and well-known international rheumatology journal," he adds. "The number of manuscripts submitted to the journal has increased exponentially, as have the number of countries from which these manuscripts have come."
The increased international reach was the result of efforts to solicit manuscript submissions from around the world, including Africa, the Middle East, Russia, China, India, and South America. By encouraging researchers from those countries, Dr. Davis says Clinical Rheumatology gave those who might not be published in the larger journals—such as Arthritis & Rheumatism or Annals of Rheumatic Disease—a chance to share their work and improve practice in their countries.