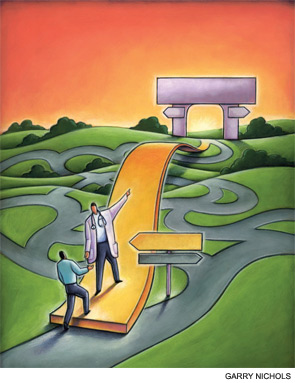 I didn't go into medicine to be a mouse doctor," says Barbara K. Finck, MD, recalling a time early in her career when she was working on murine models of lupus erythematosus and gaining a reputation as a top-tier mouse immunologist. She had always been interested in scientific research, she says, and the ability to transition from an idea to the laboratory to the clinic is a real interest of hers. She had an opportunity to go to into the pharmaceutical industry, and she took it. Within several years she was the lead medical director at Immunex for etanercept (Enbrel), a drug that changed the face of clinical rheumatology. "It's been a nice career," she says.
What is it like to be a rheumatologist working for industry? What are the advantages? The trade-offs? What reaction can you expect from former colleagues outside of industry? What distinguishes different pharma companies from one another? What is life like on the inside for a medical doctor? We asked some rheumatologists who made the leap to industry careers.
ADVERTISEMENT
SCROLL TO CONTINUE
Different Paths to a Similar Destination
John C. Davis, Jr., MD, MPH, started working at Genentech about three and a half years ago, following on a distinguished career at the University of California, San Francisco (UCSF), where he had been an associate professor of medicine in the division of rheumatology and director of the clinical trials center, lupus clinic, and ankylosing spondylitis clinic. Dr. Davis served on the U.S. Food and Drug Administration (FDA) advisory panel for arthritis medications and was chair of the Spondyloarthritis Research and Treatment Network. He is now a group medical director and head of the inflammation group in early clinical development at the South San Francisco–based company.
"I have a passion for clinical research," says Dr. Davis. "I have always had an interest in finding better drugs for our patients. I was doing that on a more narrow scale in academics, but new medications, for the most part, do not come from academic institutions," he notes.
ADVERTISEMENT
SCROLL TO CONTINUE
"Coming into industry gives me the potential to affect many more patient lives and to work with more clinical indications as well," he says, adding that he currently oversees the development of small and large molecules for the treatment of inflammatory disorders, including rheumatoid arthritis (RA), lupus, inflammatory bowel disease, and ophthalmologic and neurologic disorders.
Dr. Finck, who is now chief medical officer at NKT Therapeutics, Inc., began her career in healthcare when she received her nursing training at Massachusetts General Hospital in Boston, and continued when she graduated from medical school at UCSF. She stayed at UCSF to do her primary care and rheumatology training. At that time, there hadn't been any new drugs available to treat rheumatologic diseases in decades, she notes, and there was even talk of folding rheumatology in as a subspecialty of primary care. She says she relished this aspect of rheumatology practice: "When you took care of really sick patients who had lupus or scleroderma, for example, you almost became their primary care physician anyway." But Dr. Finck also had an affinity for the leading edge of research and she liked running clinical trials. "At that time, grant money was very tight and very hard to get," she recalls, adding that writing grant proposals was a major effort that took time away from teaching, clinical work, and running a lab.
In 1994, while she was still at UCSF studying the effects of CTLA4-Ig, which was later developed as abatacept (Orencia) in a murine lupus nephritis model, Dr. Finck was approached by ALZA (now part of Johnson & Johnson), where she worked briefly as a medical director for early clinical development. "I didn't understand the drug development process, and ALZA was a great place to learn," she says. "They had great team structure and project management, and they were well organized."
ADVERTISEMENT
SCROLL TO CONTINUE
I'm interested in science and in helping patients, so when I made the change to industry, I was concerned. Would it all be about commercial interests?
—Jeffrey Siegel, MD
When it comes to making the right career moves, "timing is everything," according Dr. Finck. "While I was at ALZA, a recruiter called me about a position at Immunex. I was lucky. I had always been interested in the cutting edge of immunology, and I knew what TNF [tumor necrosis factor] was—and that it was highly increased in ­patients with RA. At Immunex I got to work in my field of expertise. It was a dream come true," she says. Dr. Finck was the lead medical director for the phase III clinical trials of Enbrel in RA and juvenile idiopathic arthritis.
Jeffrey Siegel, MD, is currently senior group medical director at Genentech. After attending medical school at Yale University in New Haven, Conn., and completing his internal medicine training and doing some rheumatology training at Case Western Reserve University in Cleveland, Ohio, he ran the basic science immunology laboratory at the Naval Medical Research Institute in Bethesda, Md. After he had done several years of work on control of immune responses, the Navy stopped its support of basic immunology research. Dr. Siegel then took a position at the FDA. "I was fascinated when my first project involved looking at the phase II Enbrel data and helping design the phase III studies, eventually working on the evaluation and subsequent approval of other TNF blockers," he explains. Dr. Siegel was the team leader overseeing the rheumatology group several years later when other molecules, including Orencia and tocilizumab (Actemra) were evaluated for use in patients who did not respond to TNF antagonists.
"What I loved at the FDA was the need to address public health issues and facilitate drug development in areas of unmet needs. It was very rewarding," he remembers.
After 14 years at the FDA, Dr. Siegel began exploring career options outside the agency. "I left the FDA because I decided it was time for a change in my career, and I wanted to continue working on drug development—new molecules to help patients—and to help design clinical development programs to bring these drugs forward to patients," says Dr. Siegel. Because of his long experience in the field, Dr. Siegel knew he wanted to work for a pharmaceutical company with an important presence in rheumatology. He also wanted to make sure the company he would eventually work for had an appropriate focus on the patient. "I got the sense during my interviews at Genentech that there was a strong interest in doing the right thing for patients and applying science for unmet medical needs. There was a good alignment between my views and their approach," he says.
Dr. Siegel says that during his time at the FDA, he was approached about developing a clinical research program at various universities, and he says this would have been another logical avenue for him to follow post-FDA. But, he says that an academic research position that follows immediately after a research fellowship is the more conventional path. He was not comfortable making the transition to academics at this stage in his career.
Nonetheless, the path that Dr. Siegel did choose and that put him in a senior group medical director position is a bit unusual for someone leaving the FDA. "People come out of the FDA all the time to enter industry," he says. This usually means entering the regulatory side of the business. "A transition to the clinical side, like I made, is more unusual," Dr. Siegel points out. "I knew I could do regulatory affairs, but what excites me is drug development and getting drugs that work better for patients." The attractions on the clinical side include working on proof-of-concept studies, early- or late-stage drug development, phase III safety and efficacy studies, and helping determine how a drug will be approved and marketed, he says.
Snapshot: A Rheumatologist's Life in Industry
"When I get called 'Dr. Davis' at work, I know I'm in trouble," jokes Dr. Davis. "It's always 'John' at the office. Physicians who are successful in the pharmaceutical industry are the ones who are able to work with multiple functions and can leave some of the ego at the door."
The worlds of clinical or academic medicine and industry are vastly different, continues Dr. Davis. "In medicine, you pretty much do it all on your own. You're in a silo, and you're rewarded for going in-depth in one disease. In industry, you have to be multifaceted," he continues. "You must be able to work with different groups, including clinical operations, regulatory affairs, legal affairs, different research groups, and the commercial departments. You function as one member of a cross-functional team.
"For me, it's refreshing to work from a team approach," he says.
Dr. Davis says that some days when he's driving home, he's amazed by the variety of activities he's been involved in during the course of the day. "I work closely with bench research scientists from the discovery of a molecule to proof-of-concept studies to phase I and II clinical trials. I have the opportunity to influence the design of clinical trials and help interpret the data," he says. On a given day, Dr. Davis says, he "might give clinical input to a research colleague on diagnostic issues or discuss business development with someone from our partnering group. I might help a colleague involved with phase III trials and look at data to see how well the treatment worked in all patients or in particular subsets of patients," he notes as examples.
"It's lots of fun. I never imagined some of the things I'd be doing," he says. Dr. Davis has also been able to keep his hand in the clinical and academic worlds. He still sees patients at UCSF, and he teaches small groups of medical students and rheumatology fellows.
Dr. Finck's enthusiasm for the work she's done in industry is palpable and contagious. After working for ALZA and Immunex as medical director and lead medical director, respectively, she joined Eos Biotechnology as vice president of clinical development. She served in the same capacity at PDL Biopharma and was senior vice president of research and development and chief medical officer at Osprey Pharmaceuticals before taking her current position as chief medical officer at NKT Therapeutics. The common denominator in all of these positions was the fact that they occupied the forefront of immunologic research. "Eos was one of the first companies to use the full genome to find targets for cancer biologics. That intrigued me, because I was not familiar with that area. We were able to make an antibody, do the toxicology work, file an IND [Investigational New Drug] application, and take it the clinic. This is the intellectual side of the job—the real interest of mine," she says.
Another attraction for Dr. Finck is that her roles have changed over the course of her career in industry. "When I was working on Enbrel, I was the MD on the frontline. Now, as chief medical officer at NKT Therapeutics, I direct others to do the projects. I like the management role in leading-edge projects," she says.
Dr. Finck explains that she works across a number of clinical areas in addition to rheumatology, including oncology, cardiovascular disease, pulmonary disease, and several others. NKT  Therapeutics has developed antibodies to a unique subset of regulatory T cells—invariant NKT cells—that may have a role in exacerbations of asthma and chronic obstructive pulmonary disease and may play a role in autoimmunity and cancer.
"It keeps you learning," she says. "I hadn't done asthma in a long time, but I know how to get back to the books and the clinical literature to learn what's changed," an ability she credits to the "excellent training" she had at UCSF.
Does she have any regrets? Dr. Finck reports that she misses caring directly for patients. "But I live vicariously through the investigators I work with, who are academic rheumatologists. So, I don't regret my move to industry at all," she says.
Dr. Siegel says that he spends quite a bit of time working with colleagues on the commercial side of the company. "I translate medical science for the commercial people," he says. "They need to understand concepts that make sense clinically, like needing better efficacy, less disability, and lower steroid doses for RA patients and better disease control and prevention of long-term organ damage in lupus patients," he says, adding that this is one of the most satisfying aspects of his work at Genentech.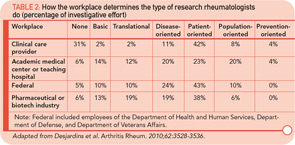 click for large version
TABLE 2: How the workplace determines the type of research rheumatologists do (percentage of investigative effort)
The Transition
"I'm interested in science and in helping patients, so when I made the change to industry, I was concerned. Would it all be about commercial interests?" says Dr. Siegel. He quickly realized that the major part of his role at Genentech would involve science and patients.
"But there's a business side, too," he adds. "It's a company, and it needs to justify its investments. We ask questions. Is there an unmet medical need? Will our product work? Is it safe?" These are all issues he and his colleagues must present to a governance committee to show that a particular investment makes good business sense.
Building the business case for a molecule was new to Dr. Siegel. "I had to learn that piece, but it was really looking at a different side of the same questions I'd always examined," he says. "I was very humbled" but not adrift, he says. "We have great people at Roche and Genentech who are available to help."
Dr. Siegel notes that at first he was concerned that his colleagues would look askance at his decision to go to industry. "They said my leaving the FDA would be a big loss, and that meant a lot to me. And I could tell they respected Genentech. I think they see the positive role that I can play here," he adds.
Not all transitions to industry are this seamless. Dr. Davis reports that the initial experience was a bit like "drinking from a fire hose." He says that his relationships with some of his academic colleagues changed. "With some people there's a distrust or lack of respect for those working in drug development in industry," he continues. Some of these bad feelings have faded a bit with time, and he maintains contact with his colleagues because of his continuing work at UCSF. "I left because the work I do has more potential to find new and better therapeutics for patients," Dr. Davis says.
Dr. Finck says she that she felt understanding on the part of her colleagues who stayed in academics and clinical practice when she left, and she credits the physicians who transitioned from academic rheumatology to industry before her for smoothing the way. "People gave them a tough time and looked at them as turncoats," she says, adding that when she left, it was understood that she did so because of the grant situation. "We looked up to them, and I hope the generation that comes after ours looks up to us in the same way."
Mary Desmond Pinkowish is a medical journalist based in New York.
Thinking About Industry?
Advice from Physicians Who Made the Move
The physicians we interviewed have several pieces of advice for their colleagues who are considering a move to industry—or trying to figure out if they are suited to this type of professional life. "It's a good transition to consider if you like the practical aspects of new drug development and bringing these drugs to patients," says Dr. Siegel. He adds that, unlike academic medicine, industry work involves lots of adherence to large-scale, high-quality process. "All of your documentation must be consistent, because the FDA will go over all the records with a fine-tooth comb. Even if the drug has been shown to be safe and effective, it may not get approved if there are problems with the documentation. You need to be comfortable working with the groups responsible for this documentation," says Dr. Siegel.
Dr. Davis recommends spending time doing the research that will allow you to answer the question, "Is this for me?"
"Learn as much as possible about the industry, as well as individual companies," says Dr. Davis. "Be open, and talk to as many physicians as possible with different positions inside these companies," he adds.
"There are so many possible roles for physicians, including early development, late development, regulatory affairs, drug safety, and clinical operations," Dr. Davis points out, adding that it's beneficial to speak with people in several areas to determine which particular area might be a good match for your interests and experience.
Dr. Davis also recommends speaking to people in small, midsize, and large companies. Each will have a distinct culture, he says, as well as a distinct approach to risk in drug development. Dr. Siegel agrees, adding that it's worth carefully investigating whether a specific company specializes in particular disease classes or tilts towards innovative drug development as opposed to working with established drug classes. On both counts, the company's goals should mirror your own interests and expertise.
"Ask about the day-to-day work life at the companies you're considering," says Dr. Siegel. Are you comfortable with what you learn? Can you imagine yourself working there?
As the saying goes, hindsight is always 20/20, and the decision to enter industry is no exception. But the rewards can be sweet and go beyond the material ones. Dr. Finck explains that once Enbrel became available, people started to regard rheumatologists as immunologists, because autoimmune diseases could be managed with biologics. "Rheumatology changed from a subspecialty of primary care to cutting-edge immunology. I'm proud of that and proud that rheumatology didn't die while I was practicing it," she says.