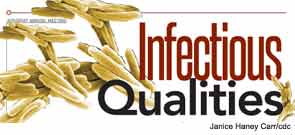 Under a high magnification of 15549x, this colorized scanning electron micrograph (SEM) depicted some of the ultrastructural details seen in the cell wall configuration of a number of Gram-positive Mycobacterium tuberculosis bacteria. As an obligate aerobic organism M. tuberculosis can only survive in an environment containing oxygen.
WASHINGTON, D.C.—Widely used therapies for rheumatic diseases can be immunosuppressive, raising the risk of tuberculosis (TB) and other serious infectious diseases in these patients. If infected, treatment decisions become more complicated, said Neil Ampel, MD, professor of medicine at the University of Arizona School of Medicine in Tucson, in a session titled, "Fungal Infections and Tuberculosis in Patients with Rheumatologic Disease," at the 2012 ACR/ARHP Annual Meeting, held here November 9–14. [Editor's Note: This session was recorded and is available via ACR Session Select at www.rheumatology.org.]
People with rheumatic diseases may be at increased risk of developing mycobacterial infections like TB or fungal infections such as histoplasmosis or coccidioidomycosis, among others, Dr. Ampel said. Glucocorticoids may raise the risk of developing granulomatous diseases almost threefold, even at doses of 15 mg daily or less, he said. Biologic response modifiers (BRMs) also may increase infection risk, though they vary, he added. Methotrexate has a lower risk.
ADVERTISEMENT
SCROLL TO CONTINUE
The cytokine tumor necrosis factor–alpha (TNFα) is critical for the formation of granulomata, Dr. Ampel said. Drugs like etanercept, infliximab, adalimumab, and certoluzimab pegol inhibit this cytokine, increasing susceptibility to certain infections. "It makes good sense that by blocking TNFα, this can have a salutatory effect on the rheumatic disease, but you do increase the risk of infection because they inhibit cellular immunity," he said. Etanercept is less immunosuppressive than monoclonal antibodies, which bind to both TNFα and the cells that produce it, blocking the cellular immune response, he added.
After diagnosis of an infection, rheumatologists may manage the patient by first treating the offending pathogen, stopping BRMs, and reducing or stopping methotrexate or glucocorticoids. Once the infection is under control, it is often appropriate to restart BRM therapy, Dr. Ampel said.
ADVERTISEMENT
SCROLL TO CONTINUE
Tracking TB
TB is in dramatic decline in the U.S., with fewer than 11,000 cases reported in 2011. It is important to know the patient's history to determine risk, he said. Patients born outside the country, particularly in Asia, are more likely to have TB. People with human immunodeficiency virus (HIV) infection are also at increased risk. Tuberculosis is rarely diagnosed in its primary stage, he added. If infected, patients' disease may enter a latent stage and then later reactivate.