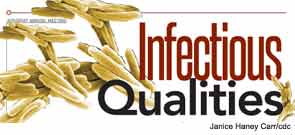 Under a high magnification of 15549x, this colorized scanning electron micrograph (SEM) depicted some of the ultrastructural details seen in the cell wall configuration of a number of Gram-positive Mycobacterium tuberculosis bacteria. As an obligate aerobic organism M. tuberculosis can only survive in an environment containing oxygen.
WASHINGTON, D.C.—Widely used therapies for rheumatic diseases can be immunosuppressive, raising the risk of tuberculosis (TB) and other serious infectious diseases in these patients. If infected, treatment decisions become more complicated, said Neil Ampel, MD, professor of medicine at the University of Arizona School of Medicine in Tucson, in a session titled, "Fungal Infections and Tuberculosis in Patients with Rheumatologic Disease," at the 2012 ACR/ARHP Annual Meeting, held here November 9–14. [Editor's Note: This session was recorded and is available via ACR Session Select at www.rheumatology.org.]
People with rheumatic diseases may be at increased risk of developing mycobacterial infections like TB or fungal infections such as histoplasmosis or coccidioidomycosis, among others, Dr. Ampel said. Glucocorticoids may raise the risk of developing granulomatous diseases almost threefold, even at doses of 15 mg daily or less, he said. Biologic response modifiers (BRMs) also may increase infection risk, though they vary, he added. Methotrexate has a lower risk.
ADVERTISEMENT
SCROLL TO CONTINUE
The cytokine tumor necrosis factor–alpha (TNFα) is critical for the formation of granulomata, Dr. Ampel said. Drugs like etanercept, infliximab, adalimumab, and certoluzimab pegol inhibit this cytokine, increasing susceptibility to certain infections. "It makes good sense that by blocking TNFα, this can have a salutatory effect on the rheumatic disease, but you do increase the risk of infection because they inhibit cellular immunity," he said. Etanercept is less immunosuppressive than monoclonal antibodies, which bind to both TNFα and the cells that produce it, blocking the cellular immune response, he added.
After diagnosis of an infection, rheumatologists may manage the patient by first treating the offending pathogen, stopping BRMs, and reducing or stopping methotrexate or glucocorticoids. Once the infection is under control, it is often appropriate to restart BRM therapy, Dr. Ampel said.
ADVERTISEMENT
SCROLL TO CONTINUE
Tracking TB
TB is in dramatic decline in the U.S., with fewer than 11,000 cases reported in 2011. It is important to know the patient's history to determine risk, he said. Patients born outside the country, particularly in Asia, are more likely to have TB. People with human immunodeficiency virus (HIV) infection are also at increased risk. Tuberculosis is rarely diagnosed in its primary stage, he added. If infected, patients' disease may enter a latent stage and then later reactivate.
"How can you detect if a patient has latent tuberculosis infection? It turns out that it isn't so easy," said Dr. Ampel. Diagnostic tests include the Mantoux tuberculin skin test and testing blood for the release of interferon gamma. The Mantoux test is not easy to place correctly to achieve a meaningful result, as the prick may be too shallow, Dr. Ampel said. "It's not the erythema that matters, it's the induration," he added. Induration of five or more millimeters indicates a positive result in some at-risk patients, including HIV-positive patients, those taking more than 15 mg of prednisone a day for more than a month, or those taking anti-TNFα drugs, he said. Skin tests of patients who have had the Bacillus Calmette-Guerin (BCG) vaccine may be hard to read, and it is best to ignore that history when interpreting the test.
Interferon gamma blood tests don't require patients to return to the office to gather results, and there are no BCG or skin placement issues. However, results may vary widely, and the test is not useful in children five years of age or younger, he added.
ADVERTISEMENT
SCROLL TO CONTINUE
Patients taking anti-TNFα therapies who develop latent TB may exhibit symptoms like persistent fever, weight loss, and cough. In these cases, chest radiographs, complete blood count, or CT scans may help confirm diagnosis, Dr. Ampel said. In a patient with suspected active tuberculosis, first establish diagnosis, then halt anti-TNF therapy, then start treating the TB, he said. If rheumatoid arthritis flares at some point, rheumatologists may wish to restart BRMs and watch the patient carefully.
Be aware that other, nontuberculosis mycobacteria may also cause infection in these patients, Dr. Ampel added. "Non-TB mycobacteria live in the environment, and we are exposed to them all the time."
Environments with Increased Risk
Inhalation of mold spores also can lead to pulmonary fungal infection, and the risk is increased in high-nitrogen organic environments like farms, animal coops, and old buildings. If a patient presents with persistent fever, mucosal ulcers, and weight loss, especially if they've lived or worked in such an environment, they should be assessed for suspected histoplasmosis, he said. However, cultures can take weeks to grow to confirm diagnosis. Detection of antigens in the urine or blood serum may be helpful, particularly in disseminated cases. Coccidiodomycosis occurs in about 150,000 patients in the U.S. yearly and is endemic in parts of California and Arizona. Serology and chest radiograph are useful in diagnosis, Dr. Ampel said. Antifungal medications like itraconozale and fluconazole are used to effectively treat these infections, but treatment is prolonged, often taking as long as a year or more.
Infection risk in rheumatic diseases highlights the importance of knowing a patient's history, he concluded. If a patient grew up outside the U.S. in areas with higher TB incidence or has spent time in prison (where TB rates are higher) or on farms, rheumatologists should consider them at higher risk of developing these potentially deadly infections and begin testing, he said.
---
Susan Bernstein is a freelance medical journalist based in Atlanta.