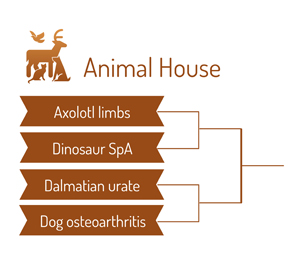 Editor's note: RheumMadness is the place for everyone crazy about rheumatology to connect, collaborate, compete and learn together. During RheumMadness, rheumatology concepts represent teams that compete against each other in a tournament, much like basketball teams do in the NCAA's March Madness tournament. In a series for The Rheumatologist, readers will get a chance to read the scouting reports for each concept team. These reports are written by rheumatology fellows from 13 programs throughout the U.S.
You Might Also Like
Explore This Issue
May 2022
Don't forget to submit your RheumMadness 2022 bracket by March 25. The more your picks match those of our Blue Ribbon Panel of rheumatologists, the more points you get. Learn more about the panel and how the brackets work online.
ADVERTISEMENT
SCROLL TO CONTINUE
Connect with RheumMadness by subscribing to the podcast and joining the conversation on Twitter, #RheumMadness. Learn more on the RheumMadness website
Region: Animal House Team: Dinosaur Spondyloarthritis
Calling on our collective expertise acquired from a childhood fascination with dinosaurs, The Discovery Channel and high school biology, we present the following scouting report on spondyloarthropathy in the fossil record.
In the primary base article, researchers inspected the Perissodactyla (i.e., the horse and rhinoceros) fossil record, as represented at several institutions in North America, Europe and Africa, to estimate the prevalence of spondyloarthropathy.1 Findings of sacroiliac or zygapophyseal erosions or fusion or presence of syndesmophytes were diagnostic of spondyloarthropathy. Although some may consider a few potential threats to the accuracy of this diagnosis—recall bias, anyone?—and wish for a report of keratoderma blenorrhagicum or the worst case of onycholysis ever seen, it does seem the study authors did the best they could with what they had. Further, the authors note they could confidently exclude infectious etiologies due to the absence of certain distinctive skeletal changes.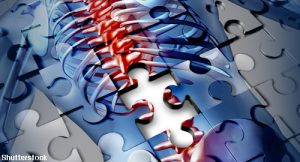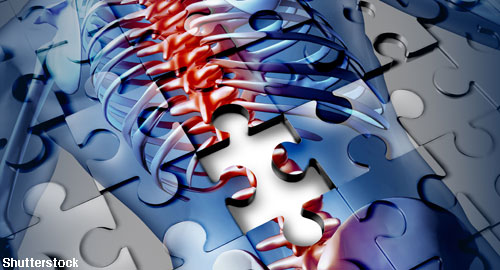 According to their reported results, rates of spondyloarthropathy seemed to progressively increase among Perissodactyla through each new epoch, with specimens from the Holocene—our current geologic period—having the highest rates. This trend correlated with an increase in the size of the animals, a relationship that has not been seen in other mammals with spondyloarthropathy. Amazingly, evidence of osteoarthritis in the fossil record was rarely observed.
ADVERTISEMENT
SCROLL TO CONTINUE
Horses, rhinos, what's next? Dinos? How did you know? Yes, apparently Camarasaurus, a genus of quadrupedal, herbivorous dinosaurs, holds the record for the earliest known case of spondyloarthropathy—and, therefore, inflammatory arthritis—147 million years ago.2
Implications
As sickle cell is protective against Plasmodium, one must wonder if spondyloarthropathy once provided an evolutionary benefit. Were our grandfathers actually giving sage advice when they recommended we grow a spine?