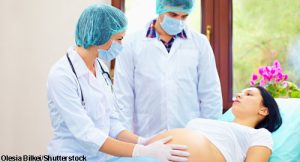 Clinical practice guidelines recommend that women who are at high risk of pre-eclampsia should receive prophylactic aspirin beginning at 12–16 weeks of gestation. Unfortunately, physicians often have difficulty determining in early pregnancy which women are at high risk. Clinicians, thus, need an evidence-based list of risk factors that can be applied, before 16 weeks of gestation, to estimate a woman's risk of developing pre-eclampsia. Researchers at the University of Toronto in Canada have now created such a list. They found that the strongest risk factor is the presence of antiphospholipid antibody syndrome.
Emily Bartsch, BMSc, and colleagues published the results  of their systematic review on April 19 in BMJ.1 Their meta-analyses were designed to identify clinical risk factors that serve as potential determinants of preeclampsia.
"By restricting our analyses to studies examining risk factors determined in early pregnancy, we focused on risk factors that could lead to a timely intervention, such as aspirin prophylaxis," write the authors in their discussion. "We generated reliable and consistent results across studies, as most were completed in the past two decades within Western countries, and about two-thirds used a standard clinical definition of pre-eclampsia. This was evidenced by a 2.7% weighted mean event rate for all risk factors across all unexposed groups, a figure close to that estimated within Western countries."
The review identified 92 large sample cohort studies that included data from more than 25 million women. The investigators focused their efforts on determining the contributions of 14 common clinical risk factors for the development of preeclampsia. They calculated the pooled relative risk of developing preeclampsia in the presence or absence of each risk factor. They also calculated the pooled population attributable fraction for preeclampsia in relation to each risk factor. The large meta-analyses allowed them to avoid much of the bias that can be found in smaller studies.