To date, there are very few head-to-head studies comparing the two methods. One recent study compared the diagnostic accuracy of US and DECT in 21 people with a clinical suspicion of gout.5 Similar sensitivity was reported for the two methods, although several false-negative results were reported with DECT that were accurately detected by US.
You Might Also Like
Explore This Issue
June 2014
For some patients, DECT offers some advantages over US, particularly the rapid scanning time (typically one to two minutes for both feet and ankles) and the multiple joints that can be quickly scanned. There are also advantages for using US. For example, unlike US, DECT cannot be performed in the office and requires travel to a dedicated imaging facility. The radiation dose with DECT also limits the frequency of testing, whereas musculoskeletal US has no such limitations.
ADVERTISEMENT
SCROLL TO CONTINUE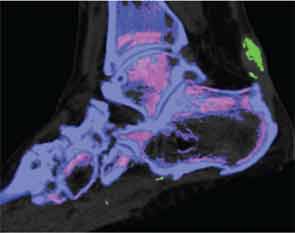 Figure 2: Two-dimensional sagittal image showing MSU crystal deposition (green) within the Achilles tendon.
ADVERTISEMENT
SCROLL TO CONTINUE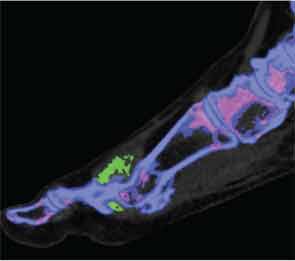 Figure 3: Two-dimensional sagittal image showing close relationship between MSU crystal deposition (green) and bone erosion at the 1st metatarsophalangeal joint.
Other Uses
Another potential role for DECT in clinical practice is assessment of disease complications. Like conventional CT, DECT can detect other abnormalities within the joint, including bone erosion, new bone formation, tendon disease and joint space narrowing, in addition to MSU crystal deposition. This technique allows for the detection of complications of gout, including tendon rupture, carpal tunnel involvement and involvement of the cervical or lumbar spine.
DECT may also have a role in monitoring response to treatment, because automated software allows rapid volume measurement of MSU crystal deposition. Due to the cost and radiation exposure associated with this technology, the principal role of DECT in serial monitoring of MSU crystal deposition is likely to be in the context of clinical trials of new therapeutic agents, rather than in routine clinical practice.
Because tophi consist of both MSU crystals and the host tissue response to these crystals, the volume of MSU crystals within the tophus varies widely, even in tophi of similar physical size. DECT allows measurement of the volume of MSU crystals within a region of interest with excellent inter-reader reproducibility (ICC>0.95) and higher reproducibility than simple physical measurement of tophi.8
ADVERTISEMENT
SCROLL TO CONTINUE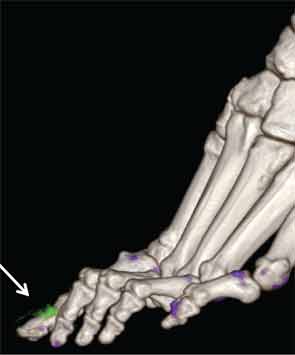 Figure 4: Three-dimensional volume-rendered image showing artifact at the toenails (arrow), with no other evidence of MSU crystal deposition.
New Insights
In addition to immediate practical applications within the clinic, DECT has provided insight into patterns and mechanisms of disease in gout by allowing visualization of the pathology of gout in real time. A key early observation: MSU crystal deposition detected by DECT is far greater than that appreciated by physical examination.2 In addition, DECT studies have elucidated the preferential sites of joint involvement in the first MTP joint, midfoot and ankle joints. In the feet, MSU crystal deposition occurs with similar frequency at bone and tendon sites, and certain tendons, such as the Achilles and peroneal, are most often affected (see Figure 2).9 Entheseal involvement, particularly at the Achilles tendon, can also be visualized using DECT.9