Explore this issue
July 2014
Also by this Author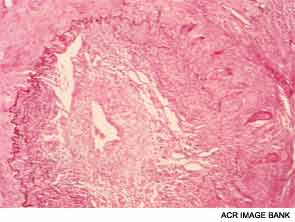 In half the field, the internal elastic lamina and media of a temporal artery are intact. In the other half, both have been destroyed and replaced by a granulomatous reaction and exudate that contains giant cells and epithelioid cells. The exudate extends into the intima, where there is extensive necrosis.
SAN FRANCISCO—A granulomatous vasculitis of the aorta and its branches, giant cell arteritis (GCA) can cause blindness, stroke and aortic aneurysm. GCA is a "frightening" disease, said Cornelia M. Weyand, MD, PhD, professor of medicine, and chief, Division of Immunology and Rheumatology at Stanford University School of Medicine, Stanford, Calif., during her presentation at the California Rheumatology Alliance's 10th Annual Medical and Scientific Meeting. Using case examples and humorous analogy, Dr. Weyand shared guidance for diagnosing GCA, lessons learned about the inflammatory cascade involved in the disease and implications for treating patients who develop it.
The Right Diagnosis
Presenting symptoms of GCA aortitis can include pulse deficits, fever, a highly elevated sedimentation rate, aneurysm or aortic dissection. GCA can co-occur with polymyalgia rheumatica. Age older than 50 years is a predominant risk factor, said Dr. Weyand, and can help clinicians differentiate patients with GCA from those with Takayasu's arteritis (TA), which occurs almost exclusively in patients younger than 40 years. In addition, TA almost always affects the carotid arteries and the proximal parts of the subclavian arteries, and frequently is seen in abdominal branches of the aorta; GCA has a preference for the distal subclavian and axillary arteries.