The information I received from the meeting organizers was very helpful, stating that stories about the inevitability of rain in London are much exaggerated and that the sun really does shine on Big Ben and Kew Gardens. Nevertheless, the organizers did recommend carrying a raincoat and an umbrella. I had to laugh about these instructions since, on Thursday, the heavens opened up with a ferocious downpour that banged on the plastic roof of the ExCel, creating a dense loud rumble. When I first heard this racket, I was sure that it signaled the arrival of the Grímsvötn ash cloud, which somehow had been redirected by a mischievous upsurge of wind out of the North (or West, or wherever) to push the cloud over the British Isles.
You Might Also Like
Explore This Issue
October 2011
Also By This Author
ADVERTISEMENT
SCROLL TO CONTINUE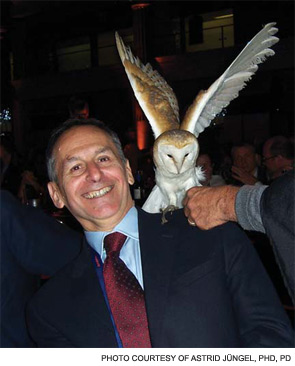 Dr. Pisetsky is visited by an owl, held by one of the Harry Potter character actors.
Given the banging on the roof, I thought that, rather than dust particles, rocks and boulders catapulted from the sky. A quick look outside, however, reassured me that it was rain and not earthen debris plunging from on high. Indeed, I would have rated the rain an 8 out of 10 on a monsoon scale, with 19 out of 19 drenched points for anyone unfortunate enough to get caught outside. Given the likelihood of further showers, I was tempted to take the tube over to Bond Street to have some Savile Row whiz with a needle and thread whip me up some bespoke duds in an elegant weave of Gore-Tex.
Wizardry and Owls at the Gala
Along with the scientific presentations, the EULAR gala is one of the high points of the congress. This year's version was held at Old Billingsgate Market, which is a large hall on the banks of the Thames, a short walk from the Monument to the Great Fire of London 1666, a soaring Doric column designed by Christopher Wren. The older buildings in London are always splendid, harmonious-but-ornate structures emanating from a time of opulence and elegance, fueled by money from a globe-encircling Empire on which the sun never set. It is hard to believe that this glorious structure was once a fish market. Drinking champagne on the lawn in the shadow of a majestic stone façade, I felt downright regal.
ADVERTISEMENT
SCROLL TO CONTINUE
The theme of the gala was Harry Potter, about which I sadly know little, but, both inside and outside the Old Billingsgate Market, actors were dressed to look like the books' characters. It was all very high spirited and festive and, once inside a large hall with long tables upon which electric candles' star-burst tendrils burned brightly, music from the movies thumped and throbbed, making a fantastic recreation of Hogwarts School of Witchcraft and Wizardry. A squadron of Harry Potter characters roamed through the crowd and obliged attendees by posing for photographs that were almost instantly beamed electronically to Brazil, China, or Estonia to show whom Mom and Dad met in London. I was not immune to such frivolity and was startled when I was approached by one of the Harry Potter people who carried an owl. I thought that the bird was a fake until it flew from its handler and set down on my arm. I could feel its talons on my skin, afraid that if I moved, I would by pierced by a sharp claw; without the benefit of ultrasound guidance, who knows what would be punctured? (Volcanoes, violent rainstorms, bird attacks. The life of a traveling rheumatologist is fraught with adventure and danger worthy of a movie by Steven Spielberg at his prime, with Harrison Ford playing yours truly. Do you think Matt Damon would be better?)