You Might Also Like
Explore This Issue
October 2011
Also By This Author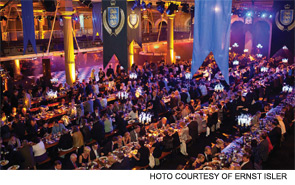 Old Billingsgate Market was transformed into the great hall of Hogwarts School of Witchcraft and Wizardry for the EULAR banquet.
The dinner was quite tasty—some kind of beef, I think, that I could wash down with young, quaffable wine from Italy (international style, of course) that had nice fruit, no oak, and just a soupçon of sangiovese flavor. As glass after glass of this red stuff went down the proverbial hatch, I could feel my spirits soothe and lift along with those of the more than 1,000 revelers there. The room echoed with laughter and raucous conversation that competed with the Harry Potter music, a joyous cacophony emblematic of a marvelous international celebration.
ADVERTISEMENT
SCROLL TO CONTINUE
As if Harry Potter lookalikes were not enough, a Beatles cover band called The Upbeat Beatles bounced onto the scene to play some of the best music ever written. With their mop-head wigs and dark suits, the Upbeat Beatles really looked like the lads from Liverpool. The lights in the hall went down, and a fog machine filled the air with a fine mist that shimmered and pulsated in kaleidoscopic colors of the flashing stage lights—gold, silver, blue, green, purple—as attendees with spouses, partners, friends, collaborators, members of the steering committee—European, American, Asian, African—crowded onto the floor and shook, gyrated, and twisted to "I Want To Hold Your Hand" and "Lady Madonna." Finally, the Upbeat ones played "Let It Be," allowing some less frenetic interaction, cheek-to-cheek stuff, as couples pressed against each other, a few kissing, all carried away by the good feeling that permeated the party. Then the band played "Help," and the demon dancers flew into exuberant action, the men took off their ties and jackets, faces glistened with sweat and, at the instruction of the band leader, we all gave a great shriek.
The party at the old market was a great hit, and I was thrilled that I could attend.
ADVERTISEMENT
SCROLL TO CONTINUE
Parting Words on EULAR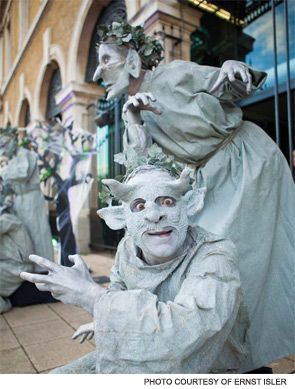 Performers in costume greet EULAR attendees outside of the ExCel convention center in London.
This will be my last official column about EULAR as the editor of The Rheumatologist. Please indulge me in some philosophy and observation about an organization that is a close partner—ami, compadre, and buddy—of the ACR. Here are a few parting thoughts.
Like the other LAR (leagues against rheumatism) organizations, EULAR is defined by what it is against. That is fine because it is against some very mean and nasty diseases that it wants to eliminate. But, EULAR is also for something, indeed, for many things. So, from the perspective of an American who has had the great good fortune to attend 10 EULAR congresses, here are some things EULAR is for: advancement of rheumatology; outstanding science; international cooperation; collaboration; friendship; people hugging each other when they greet; men kissing women on the cheek two times (or is it three times, I always get it wrong); banquets in castles; letting East meet West; lighting up parts of Europe that used to be very dark; the children and grandchildren of erstwhile mortal enemies—captors and captives, predators and prey—gazing at new data in neon glow of a computer screen; playing hooky with good friends at the Tate, Pergamon, and Albertina; champagne toasts; shouting cheers, skol, salut; clinking glasses across the table with a Swede, a Pole, and a Turk; singing Beatles songs late into the night; bumping bodies on a crowded dance floor with people from all over the world; taking a boat down the Thames, cruising by the Tower Bridge, enjoying a cognac while watching the silver lights of the city flicker against the blue-black sheen of the Northern European sky, sad that another congress is coming to an end.