Last month, I wrote about braving the threatening wrath of the Icelandic volcano Grímsvötn in order to attend the 2011 European League Against Rheumatism (EULAR) Congress in London. Fortunately, I arrived safely at Heathrow airport and made my way to the ExCel convention center. I want to now share with you some of my impressions from this year's congress.
You Might Also Like
Explore This Issue
October 2011
Also By This Author
An International Flavor
Just as in wine, where an international style prevails—cabernet, tempranillo, and syrah are all made to taste alike whether from Australia or Spain—an international style in medical meetings seems now to prevail. The distinct style and charm of the exhibit hall in EULAR—once a boisterous place of magicians, mimes, and cartoon artists—is fading, and the ambience is converging on that of the United States. Down the hall from EULAR, a convention called the MCM Comic Con was much livelier, featuring anime, manga, games, sci-fi, and cosplay (whatever that is), as thousands of young people decorated and dressed outrageously as comic book heroes—Green Lantern, pirates, X-Men—filled the promenade. I asked one of these people, a young man with purple lipstick and neon hair, why he was there. Looking incredulously at me across a generational chasm, he said, "I'm here to have fun." "Me, too," I could have replied, but I demurred.
ADVERTISEMENT
SCROLL TO CONTINUE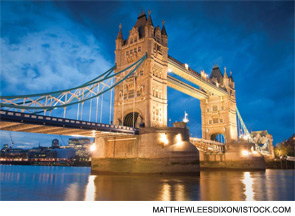 The Tower Bridge on the River Thames in London.
In the big exhibit halls, amidst acres of high-tech displays that glittered and popped with electronic wizardry, there was still espresso (as fine a treatment of jet lag as any) available at the drug company booths. At one of the espresso stations, however, a sign said that people from Vermont and Minnesota were unable to partake of the goodies because state laws prohibit physicians from accepting items even of nominal value lest they started writing prescriptions under the influence. Since it is obvious that I am American, I was expecting to be carded, but happily I did not have to produce my passport or driver's license to get a little cup of java.
ADVERTISEMENT
SCROLL TO CONTINUE
I am, of course, concerned that state legislators think that the monetary value of a cup of espresso (even with a biscotti) could twist the workings of my brain to set me in a frenzy of prescription writing for drugs that my patients do not need. If items worth a dollar or two really can bend a physician's mind, I think that the Sustainable Growth Rate really needs fixing. All I can say is that I hope that people from the Mayo Clinic were on their best behavior, avoiding any embarrassing international incident if someone was caught with his caffeine up. Most certainly, when it is time to renew your medical license, you do not want to indicate that you were extradited from England for being apprehended for possession of illegal cappuccino.
The information I received from the meeting organizers was very helpful, stating that stories about the inevitability of rain in London are much exaggerated and that the sun really does shine on Big Ben and Kew Gardens. Nevertheless, the organizers did recommend carrying a raincoat and an umbrella. I had to laugh about these instructions since, on Thursday, the heavens opened up with a ferocious downpour that banged on the plastic roof of the ExCel, creating a dense loud rumble. When I first heard this racket, I was sure that it signaled the arrival of the Grímsvötn ash cloud, which somehow had been redirected by a mischievous upsurge of wind out of the North (or West, or wherever) to push the cloud over the British Isles.
ADVERTISEMENT
SCROLL TO CONTINUE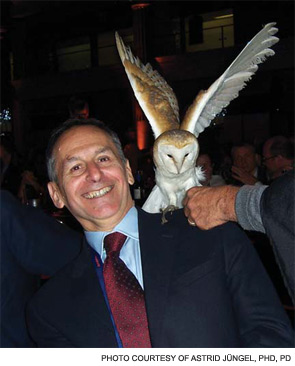 Dr. Pisetsky is visited by an owl, held by one of the Harry Potter character actors.
Given the banging on the roof, I thought that, rather than dust particles, rocks and boulders catapulted from the sky. A quick look outside, however, reassured me that it was rain and not earthen debris plunging from on high. Indeed, I would have rated the rain an 8 out of 10 on a monsoon scale, with 19 out of 19 drenched points for anyone unfortunate enough to get caught outside. Given the likelihood of further showers, I was tempted to take the tube over to Bond Street to have some Savile Row whiz with a needle and thread whip me up some bespoke duds in an elegant weave of Gore-Tex.
Wizardry and Owls at the Gala
Along with the scientific presentations, the EULAR gala is one of the high points of the congress. This year's version was held at Old Billingsgate Market, which is a large hall on the banks of the Thames, a short walk from the Monument to the Great Fire of London 1666, a soaring Doric column designed by Christopher Wren. The older buildings in London are always splendid, harmonious-but-ornate structures emanating from a time of opulence and elegance, fueled by money from a globe-encircling Empire on which the sun never set. It is hard to believe that this glorious structure was once a fish market. Drinking champagne on the lawn in the shadow of a majestic stone façade, I felt downright regal.
The theme of the gala was Harry Potter, about which I sadly know little, but, both inside and outside the Old Billingsgate Market, actors were dressed to look like the books' characters. It was all very high spirited and festive and, once inside a large hall with long tables upon which electric candles' star-burst tendrils burned brightly, music from the movies thumped and throbbed, making a fantastic recreation of Hogwarts School of Witchcraft and Wizardry. A squadron of Harry Potter characters roamed through the crowd and obliged attendees by posing for photographs that were almost instantly beamed electronically to Brazil, China, or Estonia to show whom Mom and Dad met in London. I was not immune to such frivolity and was startled when I was approached by one of the Harry Potter people who carried an owl. I thought that the bird was a fake until it flew from its handler and set down on my arm. I could feel its talons on my skin, afraid that if I moved, I would by pierced by a sharp claw; without the benefit of ultrasound guidance, who knows what would be punctured? (Volcanoes, violent rainstorms, bird attacks. The life of a traveling rheumatologist is fraught with adventure and danger worthy of a movie by Steven Spielberg at his prime, with Harrison Ford playing yours truly. Do you think Matt Damon would be better?)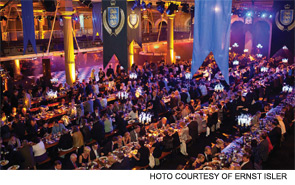 Old Billingsgate Market was transformed into the great hall of Hogwarts School of Witchcraft and Wizardry for the EULAR banquet.
The dinner was quite tasty—some kind of beef, I think, that I could wash down with young, quaffable wine from Italy (international style, of course) that had nice fruit, no oak, and just a soupçon of sangiovese flavor. As glass after glass of this red stuff went down the proverbial hatch, I could feel my spirits soothe and lift along with those of the more than 1,000 revelers there. The room echoed with laughter and raucous conversation that competed with the Harry Potter music, a joyous cacophony emblematic of a marvelous international celebration.
As if Harry Potter lookalikes were not enough, a Beatles cover band called The Upbeat Beatles bounced onto the scene to play some of the best music ever written. With their mop-head wigs and dark suits, the Upbeat Beatles really looked like the lads from Liverpool. The lights in the hall went down, and a fog machine filled the air with a fine mist that shimmered and pulsated in kaleidoscopic colors of the flashing stage lights—gold, silver, blue, green, purple—as attendees with spouses, partners, friends, collaborators, members of the steering committee—European, American, Asian, African—crowded onto the floor and shook, gyrated, and twisted to "I Want To Hold Your Hand" and "Lady Madonna." Finally, the Upbeat ones played "Let It Be," allowing some less frenetic interaction, cheek-to-cheek stuff, as couples pressed against each other, a few kissing, all carried away by the good feeling that permeated the party. Then the band played "Help," and the demon dancers flew into exuberant action, the men took off their ties and jackets, faces glistened with sweat and, at the instruction of the band leader, we all gave a great shriek.
The party at the old market was a great hit, and I was thrilled that I could attend.
Parting Words on EULAR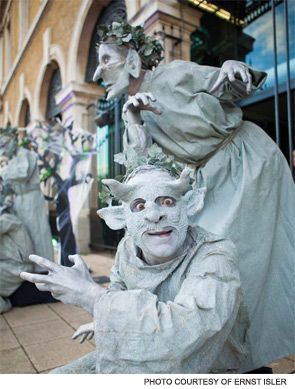 Performers in costume greet EULAR attendees outside of the ExCel convention center in London.
This will be my last official column about EULAR as the editor of The Rheumatologist. Please indulge me in some philosophy and observation about an organization that is a close partner—ami, compadre, and buddy—of the ACR. Here are a few parting thoughts.
Like the other LAR (leagues against rheumatism) organizations, EULAR is defined by what it is against. That is fine because it is against some very mean and nasty diseases that it wants to eliminate. But, EULAR is also for something, indeed, for many things. So, from the perspective of an American who has had the great good fortune to attend 10 EULAR congresses, here are some things EULAR is for: advancement of rheumatology; outstanding science; international cooperation; collaboration; friendship; people hugging each other when they greet; men kissing women on the cheek two times (or is it three times, I always get it wrong); banquets in castles; letting East meet West; lighting up parts of Europe that used to be very dark; the children and grandchildren of erstwhile mortal enemies—captors and captives, predators and prey—gazing at new data in neon glow of a computer screen; playing hooky with good friends at the Tate, Pergamon, and Albertina; champagne toasts; shouting cheers, skol, salut; clinking glasses across the table with a Swede, a Pole, and a Turk; singing Beatles songs late into the night; bumping bodies on a crowded dance floor with people from all over the world; taking a boat down the Thames, cruising by the Tower Bridge, enjoying a cognac while watching the silver lights of the city flicker against the blue-black sheen of the Northern European sky, sad that another congress is coming to an end.
The EULAR congress is imbued with the ethos of the modern world, and it has its expected share of rivalry, discord, and contention. Nevertheless, as a new direction in a world that came close to extinction not too long ago, there is a remarkable spirit of solidarity and revival on a continent that tragically has had a very, very bloody history.
Like the world of Harry Potter, at EULAR, there can be moments of real magic. Those moments are special. To me, they are worth risking the wrath of a volcano to experience and savor.
Dr. Pisetsky is physician editor of The Rheumatologist and professor of medicine and immunology at Duke University Medical Center in Durham, N.C.