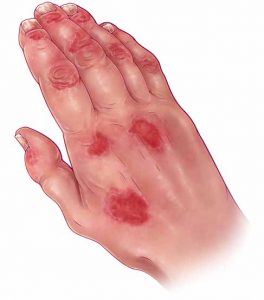 ATLANTA—As many rheumatologists will recall, it was not too long ago that psoriatic arthritis was regarded somewhat like "rheumatoid arthritis with a rash," with little attention paid to the ways in which the unique pathophysiology and manifestations of this entity make it distinct from other forms of inflammatory arthritis. At the 2019 ACR/ARP Annual Meeting the session, Optimizing Outcomes in Psoriatic Arthritis: A Domain-Based Strategy, focused on these features of psoriatic arthritis and advocated for treating each patient as an individual—based on his or her predominant symptoms—and using objective and validated outcome measures to track progress in symptom control.
You Might Also Like
Explore This Issue
December 2019
Also By This Author
Domain-Based Outcome Measures
Elaine Husni, MD, MPH, assistant professor of medicine and vice chair of the Department of Rheumatic and Immunologic Diseases at Cleveland Clinic Lerner College of Medicine Case Western Reserve University, Cleveland, began her lecture by noting that, worldwide, 323 trials on the subject of psoriatic arthritis are currently underway, with 67 of these trials actively recruiting patients to participate. This plethora of research studies reflects how the rheumatology world has grown to better understand the pathogenesis of skin, joint, tendon and other involvement in psoriatic arthritis and how the goal of treatment is to better target these specific pathways to effectively treat symptoms and prevent damage.
ADVERTISEMENT
SCROLL TO CONTINUE
Dr. Husni described two important developments in recent years: 1) outcome measures for patients have been developed to address domains that include peripheral arthritis, axial arthritis, enthesitis, dactylitis and skin involvement, and 2) such studies as the tight control of psoriatic arthritis (TICOPA) trial have demonstrated that tight control of disease activity leads to improvements in these outcome measures for patients.1
On the subject of domain-based outcome measures, Dr. Husni described some of the main measures being used in research and clinical practice. For skin involvement, the Psoriasis Area and Severity Index (PASI) is a widely used tool for the measurement of severity of psoriatic skin involvement and combines the assessment of the severity of lesions and the area affected into a single score from 0 (no disease) to 72 (maximal disease).
ADVERTISEMENT
SCROLL TO CONTINUE
For peripheral arthritis, ACR20/50/70, which are composite measures of improvement of 20%, 50% and 70%, respectively, in swollen and tender joint count, patient global assessment, physician global assessment, functional ability measure, visual analog pain scale and erythrocyte sedimentation rate or C-reactive protein (CRP), are frequently used.
With respect to enthesitis, the Leeds Enthesitis Index (LEI), Spondyloarthritis Research Consortium of Canada (SPARCC) Enthesitis Index and Maastricht Ankylosing Spondylitis Enthesitis Score (MASES) can be employed to track activity. The Leeds dactylitis index is a helpful tool to evaluate and follow dactylitis in patients, and an easy-to-use tape measuring device has been developed to help clinicians easily assess the circumference of dactylitic digits.
When thinking about patients with psoriatic arthritis, go more than skin deep & truly seek to understand the disease & its manifestations.
For axial disease, the Bath Ankylosing Spondylitis Disease Activity Index (BASDAI) includes six visual analog scales used to measure the severity of fatigue, spinal and peripheral joint pain, localized tenderness and morning stiffness to measure disease activity, progression and prognosis in a reliable manner. Dr. Husni explained that it does take practice and time to develop one's skills in examining the skin or identifying enthesitis correctly to accurately and consistently grade patients on these domain-based outcome measures. Luckily, the website of the Group for Research and Assessment of Psoriasis and Psoriatic Arthritis (GRAPPA) includes videos and training modules to teach physicians how to properly perform these assessments.2