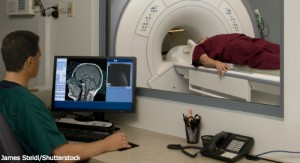 The U.S. Food and Drug Administration (FDA) is investigating the risk of brain deposits developing after repeated use of gadolinium-based contrast agents (GBCAs) for magnetic resonance imaging (MRI).1 Recent medical publications have reported that GBCA deposits have remained in patient brains long after the last administration of these agents, particularly in patients who have undergone at least four MRI scans. It is not known whether effects from the gadolinium deposits are harmful or if they can lead to adverse health effects.
FDA is continuing to further study any potential safety risks. No current changes to the product labeling for GBCAs are being recommended at this time.
ADVERTISEMENT
SCROLL TO CONTINUE
To prevent the potential accumulation of gadolinium, the FDA is requesting that healthcare professionals limit GBCA use to clinical circumstances in which the additional information provided by the contrast is necessary. The FDA is also requesting that healthcare professionals reassess the necessity of repetitive GBCA MRIs in established treatment protocols.
In published studies, investigators reviewed noncontrast MRIs of patients who had received several GBCA MRIs as part of cancer management, multiple sclerosis management or for other illnesses. The noncontrast MRIs demonstrated findings that suggested gadolinium contrast was being retained in various brain structures. So far there have been no signs or symptoms of adverse health effects and no pathological changes associated with these gadolinium brain deposits. In some of these studies, brain examination at autopsy confirmed gadolinium deposits.
ADVERTISEMENT
SCROLL TO CONTINUE
GBCAs include gadofosveset (Ablavar), gadoterate meglumine (Dotarem), gadoxetate disodium (Eovist), gadobutrol (Gadavist), gadopentetate dimeglumine (Magnevist), gadobenate dimeglumine (MultiHance), gadodiamide (Omniscan), gadoversetamide (Optimark) and gadoteridol (ProHance).
Michele B. Kaufman, PharmD, CGP, RPh, is a freelance medical writer based in New York City and a pharmacist at New York Presbyterian Lower Manhattan Hospital.
Reference
ADVERTISEMENT
SCROLL TO CONTINUE