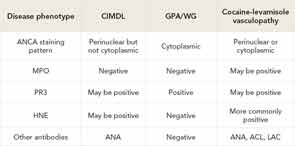 click for large version
Table 2: Complexity of Vasculopathy Associated with Cocaine–Levamisole1,2,8,9
The U.S. Drug Enforcement Agency reports that approximately 5 million Americans use cocaine regularly.5,6 As of 2011, about 89% of seized cocaine in the United States was tainted with levamisole (ergamisole).5-7 Levamisole potentiates the euphoric effect of cocaine, explaining its use as a cutting agent.7,8 However, the association between levamisole-contaminated cocaine use and an associated vasculopathy has only recently been noted. Levamisole is an antihelminthic agent used in veterinary medicine.6,7 It also stimulates T cells and macrophages, enhances B-cell production, and upregulates the expression of major histocompatability complex class I genes, vascular cell-adhesion molecule-1, and intercellular adhesion molecule 1, as well as the production of interferon-gamma and interleukin-2.2,6,7,9,10 Levamisole potentiates the pressor responses to noradrenaline, angiotensin, and acetylcholine, likely due to the inhibition of monoamine oxidase, catechol-O-methyltransferase, and catecholamine uptake mechanism.6, 7, 9-11 Levamisole can be detected in urine; however, it has a very short half life of about six hours, so it may become undetectable within 48 hours of exposure. Negative toxiciology testing from levamisole therefore should not be deemed as absence of exposure17.It was withdrawn from the U.S. market in 1999 due to the risk of serious side effects.2,3,5-7,9
ADVERTISEMENT
SCROLL TO CONTINUE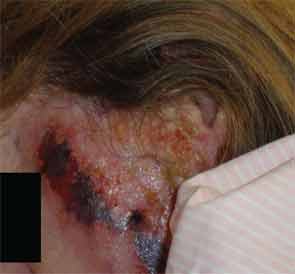 Figure 4: Necrotic rash on the left side of the face in Patient 2.
It is strongly suspected that levamisole in cocaine induces the observed pseudovasculitis, although the exact underlying mechanism is unknown. Similar necrotic skin lesions with a predilection for face, ears, and cheeks were previously noted in children with nephrotic syndrome treated with levamisole.8,12-15 The dermal pathology demonstrated a wide variety of vasculopathic reactions ranging from thrombotic vasculitis to bland vascular occlusive disease without a true vasculitis. In addition, hypersensitivity vasculitis in superficial and deep dermis with neutrophilic infiltration and fibrinoid necrosis has been observed.4,8,12-14
ADVERTISEMENT
SCROLL TO CONTINUE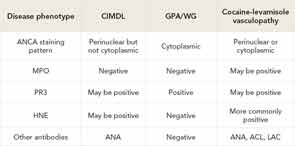 click for large version
Figure 3: Western blot analysis of antigens recognized by ANCA. Purified HNE, CG, and PR3 were fractionated on 12% SDS-PAGE gels, transferred to PVDF membrane, and blotted with sera from different patients, followed by incubation with horseradish peroxidase conjugated anti-human IgG. Bands were visualized by chemiluminescence. Control serum was obtained from a healthy donor. Technical expertise provided by Dr. Pham and Ying Hu.
In ANCA-associated vasculitides, auto­antibodies are usually directed against PR3/c-ANCA and MPO/p-ANCA. However, atypical ANCAs directed against other neutrophil protein components, including CG and human NE have been reported in cases of cocaine-related vasculopathy.2,8,14,16 It is proposed that levamisole use stimulates the production of autoantibodies, including ANA, LAC, and ANCA.2,9 Whether levamisole-induced ANCAs are directly pathogenic remains to be determined.2