"Both trials had limitations, but the collective verdict on CV safety is that allopurinol and febuxostat are equivalent [because] the CARES trial had 45% of subjects lost to follow-up (compared with 6% in FAST), severely threatening its validity," Dr. Choi said. Regarding febuxostat's Boxed Warning, he noted, "I'm not sure how this will get removed. It would be ideal to incorporate the FAST trial results, in my opinion."
Summary
In conclusion, there is still a lot to learn about the diagnosis and management of gout and the comorbidity of CV, but we are making progress. Advanced imaging is increasing diagnostic ease, and future studies may delineate drugs that address the consequences of both gout and its CV comorbidities.
ADVERTISEMENT
SCROLL TO CONTINUE
---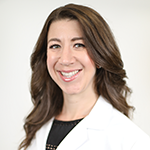 Samantha C. Shapiro, MD,
is an academic rheumatologist and an affiliate faculty member of the Dell Medical School at the University of Texas at Austin. She received her training in internal medicine and rheumatology at Johns Hopkins University, Baltimore. She is also a member of the ACR Insurance Subcommittee.
References