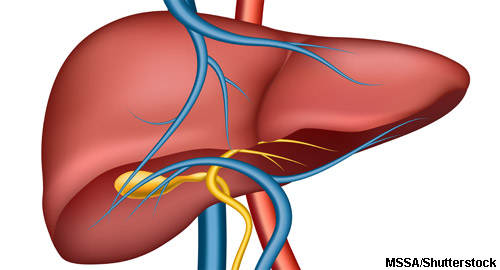 CHICAGO—New research is providing insight into the risks of elevated liver enzyme levels and development of non-alcoholic fatty liver disease, characterized commonly by hepatic steatosis, in patients with rheumatoid arthritis (RA), psoriatic arthritis (PsA) and psoriasis who are receiving tofacitinib. Enrique R. Soriano, MD, and colleagues investigated the baseline characteristics and liver enzyme abnormalities in patients after tofacitinib treatment.
You Might Also Like
Also By This Author
Dr. Soriano, a section chief of rheumatology at the Hospital Italiano de Buenos Aires, Argentina, recently shared these findings at the 2018 ACR/ARHP Annual Meeting. These findings were also published earlier this year in Annals of the Rheumatic Diseases.1,2
ADVERTISEMENT
SCROLL TO CONTINUE
"There is some concern among rheumatologists about the risk of liver toxicity with treatments we use in patients with some previous liver damage. This concern is related, among other things, to the use of combinations [of treatments] with methotrexate and in patients with psoriasis and [PsA]," Dr. Soriano says.
In this exploratory analysis, data from all clinical trials of tofacitinib, an oral Janus kinase inhibitor, in patients with RA, psoriasis and PsA were examined. Patients were randomized into tofacitinib (5 or 10 mg tofacitinib received twice daily) and placebo arms of 25 studies included in this pooled post hoc analysis. Most studies allowed or mandated concomitant treatment with disease-modifying anti-rheumatic drugs.
ADVERTISEMENT
SCROLL TO CONTINUE
Hepatic steatosis was measured according to the Medical Dictionary for Regulatory Activities. These baseline characteristics include: incidence of elevated total bilirubin, aspartate aminotransferase and alanine aminotransferase >1x and >3x the upper limit of normal up to Month 3, and change from baseline in C-reactive protein at Month 3.
Results
At baseline, prevalence of hepatic steatosis was 1.6% across the tofacitinib RA, PsA and psoriasis programs. After three months of tofacitinib treatment, the incidence of mildly elevated liver enzymes was higher in patients with hepatic steatosis than in those without hepatic steatosis. Overall, the incidence of severely elevated liver enzymes was low and similar in patients with or without hepatic steatosis.
"We found, among patients with mild/moderate hepatic steatosis diagnosed by their treating rheumatologists, tofacitinib was safely used as monotherapy or in combination with methotrexate, not only in patients with [RA] but also in patients with psoriasis and [PsA]," Dr. Soriano says. The investigators also showed that the treatment response for patients with RA and psoriasis was similar between patients with and without hepatic steatosis.
ADVERTISEMENT
SCROLL TO CONTINUE
Previous research has shown that the clinical response to TNF inhibitors may be reduced in PsA patients with hepatic steatosis. Therefore, it was important to know the effect of tofacitinib, he notes.3