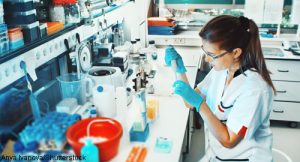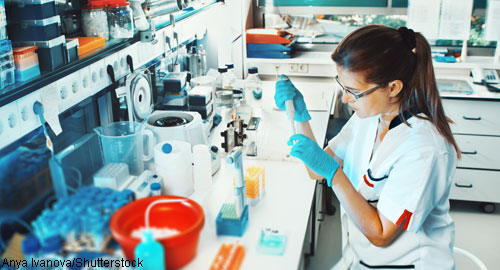 Physicians use three tests to detect antiphospholipid antibodies (aPL) and diagnose
antiphospholipid syndrome
(APS). Two of these tests are enzyme-linked immunosorbent assays (ELISAs) that measure IgG and IgM anti-cardiolipin (aCL) and anti-β
2
-glycoprotein (aβ
2
GPI). The third test is a functional clotting assay for
lupus anticoagulant
(LA). A new study has found that measuring additional antibodies to β
2
GPI may improve the diagnosis of APS. In particular, measurement of IgG Domain I (aDI) of β2GPI, IgA aβ
2
GPI and IgA aDI may be helpful in the management of APS in general, and thrombotic APS in particular.
Charis Pericleous, PhD, postdoctoral researcher at the University College London in the U.K., and colleagues published the results of their observational, multicenter cohort study June 2 in PLOS ONE. They tested patients for IgG, IgM and IgA activity against β2GPI, DI and CL.
You Might Also Like
Also By This Author
"In this study, we performed nine different assays using sera from 430 subjects," explain the authors in their article. "This large dataset allows the first rigorous comparison of IgG, IgM and IgA aCL, aβ2GPI and aDI in patients with APS, SLE and healthy controls. We confirm the importance of IgG aCL and IgG aβ2GPI tests, which had the highest sensitivity for APS and were strongly associated with LA positivity."
ADVERTISEMENT
SCROLL TO CONTINUE
Additionally, although all of the tested assays had good specificity for APS, the investigators found that patients who tested positive for IgA aβ2GPI had a higher hazard ratio for APS when compared with patients who tested positive for IgM aβ2GPI. They also note that, although IgG aβ2GPI has been well studied, the role of IgA aβ2GPI in pathogenicity is less well understood. Their finding that a positive test for IgG, IgM or IgA aDI was each associated with APS is consistent with a previous study that documented an added value in measuring IgG aDI, as well as aCL/aβ2GPI for the identification of patients who are at increased risk for vascular thrombosis (VT). Reinforcing this finding, the current study also found that IgG aCL, aβ2GPI, aDI and IgA aDI were all associated with thrombotic, but not obstetric, complications in patients with APS.
"In line with recently published studies, we also found that aDI were more common in APS patients who were aCL, aβ2GPI and LA positive," add the authors. Specifically, individuals who tested positive for aCL and/or aβ2GPI had a three- to five-fold increased hazard ratio for APS if they were also positive for aDI. The researchers conclude, "Based on our current findings and other groups' published reports, we consider aDI tests as a useful additional test rather than a replacement for tests using whole β2GPI, since the latter would also pick up aβ2GPI directed against other domains."