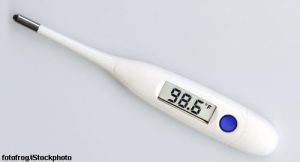 A study published online in the Annals of Rheumatic Diseases proposes new evidence-based classification criteria for a number of relatively rare, hereditary, autoinflammatory fevers. These conditions flare up recurrently or periodically and are seen mostly, but not exclusively, in the pediatric population.1
Hereditary recurrent fever syndromes are caused by genetic disorders that are secondary to mutations in genes involved in the body's innate immune response. They are not likely to be encountered often in routine clinical practice, but rheumatologists should not assume they will never see them, says Hal M. Hoffman, MD, professor of pediatrics and medicine and chief of the Pediatric Division of Allergy, Immunology and Rheumatology, University of California, San Diego. He is a member of the international panel that developed the new criteria.
The new classification criteria are not intended to be used to diagnose the condition and should not be used interchangeably with diagnostic criteria by frontline clinicians, Dr. Hoffman says. But they are useful to help rheumatology professionals better understand how these rare conditions are defined and the differences between them.
In the absence of clear classification and diagnostic criteria, insurance companies may deny coverage for the very expensive medications used to treat these rare conditions. Countries where the government, not private insurance companies, makes these decisions also want clear criteria for approving coverage, he notes.
Putting Patients into Boxes
"The majority of patients who present with recurrent fevers don't fit neatly into a single disease diagnostic box. Some may have oligogenic or complex disorders in which environmental factors are playing a role," Dr. Hoffman says. "We try to teach rheumatologists about the major features of these diseases, and how to recognize clinical clues that help to make a diagnosis."
Recent discoveries by researchers of systemic autoinflammatory diseases point to a common disease mechanism based on exaggerated activity of different parts of the innate immune system. These findings have led to effective therapies that are now available for many of these syndromes. Example: In the CLUSTER study, canakinumab was shown to be effective for controlling and preventing flares in patients with colchicine-resistant familial Mediterranean fever, as well as in patients with two other hereditary, recurrent fevers.2
A variety of classification or diagnostic criteria have been used in the past for different hereditary recurrent fever disorders. But overall, those criteria were not very accurate or did not incorporate genetic findings, according to the new guideline's international expert author panel. This group of diseases is commonly defined by episodes of fever and inflammatory flares in the absence of autoantibodies. Musculoskeletal, abdominal and skin symptoms are often present during these flares. Some of the most distinguishing features include the type of rash or the duration of episodes.