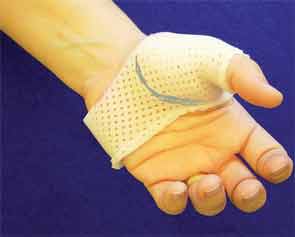 Figure 4: Thumb spica splint.
To fabricate a successful thumb spica splint, therapists collaborate with patients to construct splints that facilitate functional requirements. For example, patients who handle large cylindrical objects, such as tool handles, have different grip-and-pinch requirements than those who handle a needle. Splint fabrication may require multiple attempts to identify patients' thumb-and-hand functional requirements and construct one or more splints to facilitate functional activity.
ADVERTISEMENT
SCROLL TO CONTINUE
Exercise: Weakness of thumb musculature leads to an imbalance of forces between the thumb and fingers. This imbalance can cause abnormal wear on the trapezium and metacarpal joints. Exercises to strengthen the thumb muscles can reduce this imbalance and also increase muscle-related stability around the thumb CMC joint. Studies that have examined the role of exercise in treating thumb CMC joint OA report improvements in strength, pain, and hand function.9
While not specific to the thumb CMC joint, Stamm et al reported a significant improvement in grip strength and improved global hand function scores in patients with hand OA given joint protection education and hand exercises.11 The exercises given to the experimental group consisted of tendon gliding and active thumb opposition. Pelligrini et al recommends thenar strengthening to promote a stable joint position during pinching activities.5 Boustedt et al found that adding splinting and exercises to joint-protection education resulted in improved pain control and daily function.12
ADVERTISEMENT
SCROLL TO CONTINUE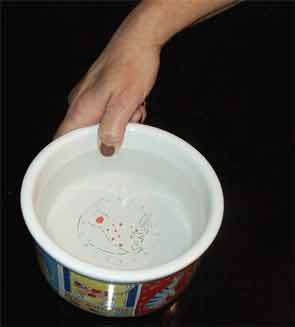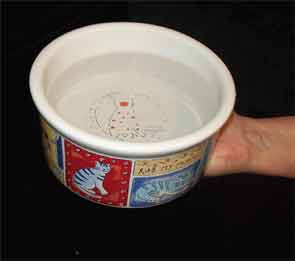 Figure 5: Teaching patients to use larger joints (b) rather than smaller joints (a) to reduce joint forces.
As described above, resistive activity/exercise of the muscles that cross the CMC joint of the thumb results in joint compression that may contribute to cartilage deterioration and pain. Therefore, any strengthening exercise program for thumb CMC joint OA should be completed under the supervision of a therapist and structured to be pain-free and prevent excessive joint compression. During periods of acute inflammation, patients should perform pain-free active range of motion for all thumb movements to maintain tendon gliding and joint mobility.
Therapists evaluating patients with thumb CMC joint OA can determine if joint instability or weakness contributes to uneven joint compression and pain during specific functional tasks and develop patient-specific exercises. For example, resistive lateral pinch activities such as squeezing out toothpaste may cause pain and dorsal subluxation of the base of the metacarpal. The therapist provides the patient with pain-free, isometric thumb flexion and adduction exercises to improve this functional task. Patients are encouraged to determine which joint positions improve stability and decrease pain during functional tasks. Isometric strengthening of the muscles that maintain optimum positioning can then be provided.