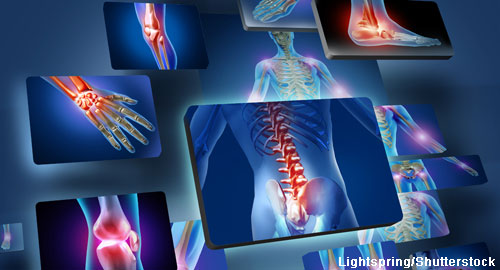 Approximately 54.4 million adults in the U.S. have doctor-diagnosed arthritis. These patients bear the physical cost of arthritis, as well as its monetary cost. Arthritis is a leading cause of disability and is expensive to have.
Last year, investigators from the Centers of Disease Control and Prevention (CDC) reported the prevalence of arthritis was particularly high among adults with comorbid conditions, such as heart disease, diabetes and obesity. At the time, the report noted that approximately half of adults with arthritis have activity limitations attributable to the disease. The CDC scientists warned that the high prevalence of arthritis-attributable activity limitations would likely increase until approximately half of adults with arthritis and heart disease, arthritis and diabetes, and arthritis and obesity have their activity limited by their arthritis. For these patients, arthritis would have a direct negative effect on their quality of life and make it more difficult for them to manage comorbid conditions.1
Now, members from the same CDC research group report that from 2009 to 2016 approximately one-third of adults in the U.S. with prediabetes also have arthritis. According to Michelle Sandoval-Rosario, MPH, epidemiologist at the CDC, and colleagues, arthritis may prevent these individuals from being physically active, thereby, making it more likely they will develop type 2 diabetes. This progression may occur because the two most important self-management strategies for the prevention of type 2 diabetes are increased physical activity and weight loss. The investigators published the results of their analysis  in MMWR.2
The team used the 2009–2016 National Health and Nutrition Examination Surveys to establish the relationship between prediabetes and arthritis. The surveys include a sample of the U.S. non-institutionalized population and gather data through interviews and examinations. When the investigators analyzed this data, they found the overall unadjusted prevalence of adults with prediabetes was 35.8% and the unadjusted prevalence of adults with diabetes was 13.1%. The unadjusted prevalence of arthritis among adults over the same time period was 32%. When the researchers looked specifically at adults with prediabetes, they found not only did one-third of prediabetic adults have arthritis, but also that arthritis prevalence was highest among patients older than 65 years (55.7%).
Next, the investigators looked at physical inactivity and obesity in individuals with prediabetes and arthritis. They found the unadjusted prevalence of physical inactivity was 56.5% and obesity 50.1% among adults with both conditions. When they calculated an age-standardized prevalence of leisure-time physical inactivity for adults with both prediabetes and arthritis, they found it was significantly higher than for adults without prediabetes or arthritis (54.0% vs. 39.5%). Although adults with arthritis are frequently prescribed opioids for pain management, exercise itself can reduce pain and improve physical function by 40%.