You Might Also Like
Explore This Issue
December 2013
Also By This Author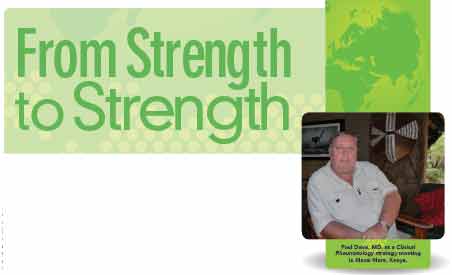 Paul Davis, MD, at a Clinical Rheumatology strategy meeting in Masai Mara, Kenya.

After eight years as editor-in-chief (EIC) of Clinical Rheumatology, Paul Davis, MD, is trading editorship for partial retirement in December 2013. His tenure has been a success, according to both him and his colleagues, and Clinical Rheumatology enjoys international respect and prestige. Under Dr. Davis' guidance, the journal saw significant growth in the number of papers submitted and international reach, as well as a twofold increase in its impact factor. To accomplish these feats, Dr. Davis focused the mission and content of the journal, and he appointed four associate editors to promote the journal worldwide.
ADVERTISEMENT
SCROLL TO CONTINUE
A Clear Mission
Clinical Rheumatology is the journal of the International League of Associations for Rheumatology (ILAR), the executive committee of which consists of the presidents and presidents-elect of the ACR, African League of Associations for Rheumatology (AFLAR), Asian Pacific League of Associations for Rheumatology, (APLAR), European League Against Rheumatism (EULAR), and Pan-American League of Associations for Rheumatology (PANLAR). Together, the members of ILAR have a mission to support global progress in rheumatology practice and education.
Believing in this mission, Dr. Davis focused Clinical Rheumatology to promote the same, to make the mission of the journal congruent with the mission of ILAR and grow its international reach. He appointed four associate editors to accomplish this, one each from AFLAR, APLAR, EULAR, and PANLAR. Their role was to promote the journal in their respective regions and advocate for the journal to "anyone who would listen," Dr. Davis says. "Word gets 'round and people start looking at the journal more seriously, and I think people are taking Clinical Rheumatology more seriously than perhaps 10 years ago."
ADVERTISEMENT
SCROLL TO CONTINUE
"The journal has gone from strength to strength under Dr. Davis," says Ade Adebajo, MD, professor of rheumatology at the University of Sheffield in Sheffield, U.K., and an associate editor of Clinical Rheumatology who worked with Dr. Davis for six years. These strengths include that "Clinical Rheumatology is now a well-respected and well-known international rheumatology journal," he adds. "The number of manuscripts submitted to the journal has increased exponentially, as have the number of countries from which these manuscripts have come."
The increased international reach was the result of efforts to solicit manuscript submissions from around the world, including Africa, the Middle East, Russia, China, India, and South America. By encouraging researchers from those countries, Dr. Davis says Clinical Rheumatology gave those who might not be published in the larger journals—such as Arthritis & Rheumatism or Annals of Rheumatic Disease—a chance to share their work and improve practice in their countries.
Attracting high-quality research manuscripts from the developing world (in particular Africa and China) was one of Dr. Davis' most significant contributions to the journal, Dr. Adebajo says. "It would be no exaggeration to say that Dr. Davis has managed to use the journal to improve the quality of rheumatology in particular, and academic medicine more generally, in the developing world," he adds.
ADVERTISEMENT
SCROLL TO CONTINUE
Steps to Success
In creating a more successful Clinical Rheumatology, Dr. Davis guided the staff to make some changes. They restructured the content, for example, to draw a hard line between clinical topics and basic science. This change has been apparent, says Anthony Russell, MD, professor of medicine at the University of Alberta in Edmonton, Canada, who was on the ILAR executive committee before Dr. Davis. In Dr. Davis' tenure, the journal has changed in that, "isolated case reports, the sort of 'Well, what do you know?' reports," are no longer accepted, Dr. Russell notes. Instead, the content has become focused on clinical papers and reviews, content that includes usable conclusions and hypotheses.
By making the journal strictly a clinical publication, Dr. Davis eliminated the need to compete with the numerous journals that publish basic science and at the same time made the content ready to use. "When people read the journal and they read an edition, I like to think people can walk away and say, 'That was good, and something I can try in my practice tomorrow,'" he says.
Strength in Style
Dr. Davis' work style was complementary to this process because he is respectful and supportive as well as forthright, says Cesar Ramos-Remus, MD, MSc, professor of rheumatology at the University of Guadalajara, Mexico, who worked as an associate editor on Clinical Rheumatology for nearly eight years. "He always express[es] clearly what he wants, and his view about what Clinical Rheumatology should be, but always listen[s] to opinions from the editorial board even if [they] are divergent. His ability to concert opinions and gather people to help Clinical Rheumatology is remarkable."
In addition to these traits, Dr. Adebajo commented on his appreciation of Dr. Davis' "jovial nature" and "utter commitment and dedication to excellence in clinical practice, teaching, and research."
His dedication includes a focus on ensuring the international success of the journal. "Clinical Rheumatology truly became international when Paul Davis became EIC," Dr. Ramos-Remus says. "He selected an editorial board with different backgrounds, latitudes, and expertise. Under his guidance, the revision process of the submitted manuscripts was more stringent. Now, authors from every continent submit papers to Clinical Rheumatology."
Another of Dr. Davis' strengths as an EIC is his background in academics, Dr. Ramos-Remus adds.
According to Dr. Davis, this perspective allowed him to empathize with the authors who submitted work to the journal. "I think [my academic background] helped a great deal because I started off as a clinical and then laboratory investigator years ago when I first got into academic medicine," he explains. "That gave me a good background into the scientific process, how to undertake studies, how to write grants, how to write papers. … I think that an academic background gave me quite a bit of insight into the issues that authors face when they're submitting papers."
On the Horizon
In reminiscing on his years as EIC and the growth of the journal, Dr. Davis admits a sense of pride in his accomplishments. He also is quick to give credit to the team who helped make the journal a success over these past eight years.
"I think the editor-in-chief does have an important and critical role, and obviously is the person who sets the mission and direction of the journal, and so I must say that I take some satisfaction from having had that role and being successful," he says. "It could have been a failure! It wasn't, fortunately, but in some ways, we made some policy decisions that some people thought might not be the right way, but I think it turned out to be the right way. I certainly take some satisfaction in being the 'captain of the ship,' if you like, but certainly this has been a team effort."
Retirement from Clinical Rheumatology is not the end of the road for Dr. Davis, who intends to continue working in his postretirement teaching position at the University of Alberta. Although he had many opportunities to travel around the world in his work on the journal, he also intends to take advantage of "a little less hectic schedule" to perhaps do a bit of traveling in the future—just for fun.
---
Kimberly Retzlaff is a medical journalist based in Denver.