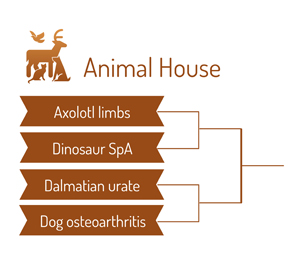 Editor's note: RheumMadness is the place for everyone crazy about rheumatology to connect, collaborate, compete and learn together. During RheumMadness, rheumatology concepts represent teams that compete against each other in a tournament, much like basketball teams do in the NCAA's March Madness tournament. In a series for The Rheumatologist, readers will get a chance to read the scouting reports for each concept team. These reports are written by rheumatology fellows from 13 programs throughout the U.S.
You Might Also Like
Explore This Issue
May 2022
Don't forget to submit your RheumMadness 2022 bracket by March 25. The more your picks match those of our Blue Ribbon Panel of rheumatologists, the more points you get. Learn more about the panel and how the brackets work online.
ADVERTISEMENT
SCROLL TO CONTINUE
Connect with RheumMadness by subscribing to the podcast and joining the conversation on Twitter, #RheumMadness. Learn more on the RheumMadness website.
Region: Animal House Team: Axolotl Limbs
The axolotl is a water-based salamander named after Xolotl, the god of fire and lightning in ancient Aztec mythology. An important Mexican cultural symbol, the axolotl is recognized by its feather-like gills that resemble a headdress and its resting-smile face. The natural kawaiiness of the axolotl makes it a popular candidate for stuffed animals, and on the internet, it's been compared with Kirby, the iconic Nintendo character. The species has even been featured in the videogame Minecraft and referenced in Frank Herbert's renowned science fiction series Dune. Axolotls bred in captivity are common pets and often used in biomedical research. Unfortunately, the axolotl is critically endangered in the wild due to threats to its natural habitat, and the last surviving wild specimens can be found only in the lakes of Xochimilco, Mexico.1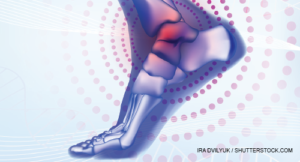 Axolotls have the ability to regenerate amputated limbs without scarring. Can the exact mechanisms for this ability be uncovered and applied to degenerative human diseases, such as osteoarthritis (OA)?
A fascinating 2019 Duke University study by Hsueh et al., published in Science Advances, found mature human cartilage in lower extremity joints has the ability to self-repair through a microRNA-mediated process that is also conserved in highly regenerative animals, such as zebrafish and the axolotl.2 In brief, these protective microRNA molecules were found to be more active in ankle joints than hip and knee joints. Moreover, the age of cartilage, which was determined by quantifying the extent of post-translational deamidation that spontaneously occurs in proteins with time (referred to as a molecular clock), was found to be youngest in ankles, older in knees and oldest in the hips. The microRNA data may explain why injuries to the ankle tend to heal more quickly than those affecting the hips and knees, and the deamidation data may explain why so few cases of severe ankle OA exist compared with hip and knee OA.