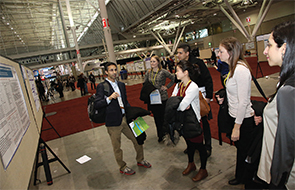 Dozens of medical students and residents are now seriously considering a career in rheumatology, thanks to a special event hosted by the Rheumatology Research Foundation. During the 2014 ACR/ARHP Annual Meeting in Boston, the Foundation hosted a special, daylong event called the Student and Resident Experience. The Experience is designed to help future doctors and health professionals navigate the Annual Meeting. It also helps them better understand the field and encourages them to pursue a career in rheumatology. Many of those in attendance say the Experience taught them much about the field and helped shape their future plans and goals for treating patients.
You Might Also Like
Explore This Issue
February 2015
Also By This Author
The Foundation developed the Student and Resident Experience event to help meet the growing demand for rheumatology services. According to a study on the rheumatology workforce, demand for rheumatology services is expected to increase 46% between 2005 and 2025. In that same time period, the number of practicing rheumatologists is only expected to go up 1.2%. More rheumatology professionals are needed not only to help fill that gap, but also to replace rheumatologists as they retire.
ADVERTISEMENT
SCROLL TO CONTINUE
Many of the students and residents who attended the Experience say they are ready to be part of the solution. During the daylong program, experienced rheumatologists discussed the reasons they chose the field and spoke to the crowd about their subspecialties, such as pediatric rheumatology. Attendees also toured the poster hall and attended recommended talks to learn more about the latest discoveries and research transforming rheumatic disease care, as well as clinical applications that will improve the health of patients.
Luke Barre, MD, a young doctor from Rhode Island, was able to attend the Annual Meeting and the Experience because he was one of the first recipients of the Foundation's Student and Resident ACR/ARHP Annual Meeting Scholarship. The scholarship introduces students and residents in areas underserved by rheumatology professionals to the specialty by paying for the cost of travel to attend the ACR/ARHP Annual Meeting. Dr. Barre says he is now certain that he will pursue a career in rheumatology. "It was an incredible opportunity to meet the stars in rheumatology and hear the newest innovations in the field," he explains. "I would say, for any potential rheumatologist, this will stoke the flames of interest and convince many people how great the field is."
ADVERTISEMENT
SCROLL TO CONTINUE
According to a survey taken after the event, nearly 60% of attendees said they are quite interested in pursuing or are certain they will pursue a career in rheumatology.