Explore this issue
May 2014
Also by this Author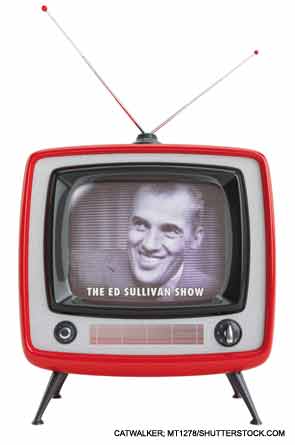 Comedians often poked fun at Ed Sullivan's erect, stiff posture, unaware that he suffered from ankylosing spondylitis.
Before there was MTV, there was Ed Sullivan. His Sunday night variety show hosted some of the finest music and comedy acts that were seen on television. Sullivan had a knack for spotting exceptional talent. His show debuted some of the greatest rock and roll bands of the 1960s, including The Rolling Stones, The Doors, The Who and most famously, The Beatles. Viewed by an audience estimated to be more than 76 million people, about 40% of the U.S. population, the appearance of The Beatles launched the first tidal wave of Beatlemania across America and around the world.
Unlike his musical guests, Sullivan displayed little stage presence, often bungling his lines as he sauntered stiffly across the stage, arms firmly folded across his chest. Comedians would often poke fun at Sullivan's wooden style, imitating his erect posture and his odd way of turning his entire body rather than just his neck when looking sideways. Many years later, I discovered the reason for Sullivan's rigid demeanor. He suffered from ankylosing spondylitis (AS), an ancient disease that has only recently attracted the intense interest of clinicians and researchers.