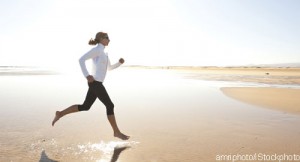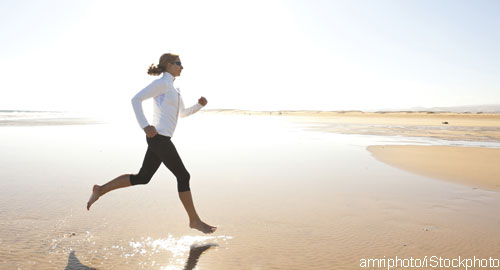 Running barefoot may conjure images of summer and childhood, but since Abebe Bikila of Ethiopia set a world record running barefoot in the marathon in the 1960 Olympic Games in Rome (Olympic gold medal in a world-record 2:15:16.2), many runners have adopted the style. A comparison of shod and barefoot running indicates that, although the two running strategies have similar injury rates, barefoot running may be associated with significantly fewer overall musculoskeletal (MSK) injuries.
You Might Also Like
Also By This Author
Allison Altman-Singles, PhD, an assistant professor of kinesiology and mechanical engineering at Pennsylvania State University Berks in Reading, and Irene S. Davis, PhD, a professor of physical medicine and rehabilitation at Harvard Medical School in Cambridge, Mass., published the results of their prospective survey in the April 2016 issue of the British Journal of Sports Medicine.1 "We aren't seeing more musculoskeletal injuries in barefoot runners," explains Dr. Altman-Singles in an interview with The Rheumatologist. "If anything, we are seeing fewer of certain types of musculoskeletal injuries."
ADVERTISEMENT
SCROLL TO CONTINUE
The researchers examined the differences in injuries between habitually barefoot and habitually shod runners. They categorized participants as barefoot runners if individuals spent at least 50% of their running time barefoot. Barefoot runners were allowed to run in minimalist footwear for the balance of their running time. In many cases, barefoot runners had experienced injuries, such as fasciitis and iliotibial band syndrome (ITBS), prior to switching to barefoot running.
Barefoot Runners Ran Fewer Miles
The investigators noted in their paper that the barefoot runners tended to be older than the shod runners (38.6 vs. 34.6 years). Additionally, barefoot runners ran shorter distances. Robert K. Lee, DPM, chief of podiatric foot and ankle surgery at the UCLA Medical Center in Santa Monica, Calif., believes this difference in mileage between the two groups was a fatal flaw of the study.
ADVERTISEMENT
SCROLL TO CONTINUE
"The barefoot runners, in this study, ran on average 10 miles less per week compared [with] the runners with shoes. In fact, the barefoot runners averaged about 15 miles per week, whereas the shoe runners ran 25 miles per week. That means the latter group ran 66% more miles compared [with] the barefoot group," writes Dr. Lee in an email to The Rheumatologist.
The data add up to an average of 520 more miles per year run by each of the shod runners when compared with barefoot runners.
In an apparent acknowledgement of this mileage difference, the authors reported their data as injury rate. When the investigators looked more closely at the types of injuries sustained by each group they found that, in both groups of runners, the foot was the most commonly injured area. Dr. Lee was not surprised to discover that, although the injury rate was similar between the two groups, the group with more miles had more foot issues. However, the type of foot injuries differed between the two groups. The barefoot runners were more likely to experience plantar surface injuries and abrasive injuries to the sole of the foot than were the shod runners.
ADVERTISEMENT
SCROLL TO CONTINUE
The researchers also noted that plantar fasciitis was more common in the shod group than the barefoot group. Additionally, shod runners experienced more patellofemoral pain syndrome and ITBS than did barefoot runners. Dr. Altman-Singles describes this difference as huge. Although barefoot running may have offered some protection against plantar fasciitis, barefoot runners had a greater number of Achilles or calf and posterior tibialis strains when compared with shod runners. Dr. Altman-Singles explains the findings by noting that, "What we do know is that barefoot running results in a lower loading rate."
Turner Vosseller, MD, assistant professor of foot and ankle surgery at Columbia University Medical Center in New York, agrees. "What there is, is a lot of objective evidence that when you run barefoot, you run differently," he explains in an interview with The Rheumatologist. Instead of striking with the heel, barefoot runners tend to land on their forefoot. The barefoot runners also take shorter strides, which also leads to less heel impact and less force transmitted through the body.
What to Tell Patients?
In the 1970s, shoe companies, such as Nike, began to put more cushioning into shoes. Runners adapted to these shoes by running more on their heels. More recently, shoe companies have created footwear that is designed to mimic barefoot running and the new research raises the question: Should patients be counseled to try barefoot running?
"I think it definitely can be helpful," responds Dr. Altman-Singles. "What we can say is that it may help you to avoid certain types of injuries." She also emphasizes that the study was designed to evaluate full barefoot running, and the results cannot necessarily be extrapolated to minimal footwear. However, she notes that minimal footwear would likely help to protect the feet from abrasions, a problem that is common with true barefoot running.
It's likely that some foot types do better with barefoot running and others do better with shod running. The mechanical difference between barefoot running and shod running does mean, however, that individuals who switch from barefoot running to shod running should slowly transition to allow their bodies to adapt to the different mechanical forces.
"This is really good work in one sense: This is something that a lot of people are interested in," notes Dr. Vosseller.
"Their results are about what I would expect them to be," he explains, noting that there are inherent limitations in the study design, specifically the use of a survey. Nevertheless, "I think as a first step, it is a good idea," he adds, explaining that the authors did a good job of translating the science into a clinical setting.
"Despite the shortcomings of this study, it is generally understood that there are some benefits to the barefoot running style," acknowledges Dr. Lee. "The question is whether the benefits come from the fact that they are running barefoot or because they have a different stride and cadence in their running style."
The authors call for a larger scale cohort to more accurately assess the differences in injuries between the two groups. A larger study would also make it possible to perform statistical analyses on the rates of specific injuries and possibly compare runners who run a similar amount of mileage each week.
---
Lara C. Pullen, PhD, is a medical writer based in the Chicago area.
Reference
Altman AR, Davis IS. Prospective comparison of running injuries between shod and barefoot runners. Br J Sports Med. 2016 Apr;50(8):476–480. doi: 10.1136/bjsports-2014-094482. Epub 2015 Jun 30.