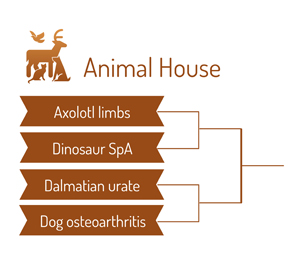 Editor's note: RheumMadness is the place for everyone crazy about rheumatology to connect, collaborate, compete and learn together. During RheumMadness, rheumatology concepts represent teams that compete against each other in a tournament, much like basketball teams do in the NCAA's March Madness tournament. In a series for The Rheumatologist, readers will get a chance to read the scouting reports for each concept team. These reports are written by rheumatology fellows from 13 programs throughout the U.S.
You Might Also Like
Explore This Issue
May 2022
Don't forget to submit your RheumMadness 2022 bracket by March 25. The more your picks match those of our Blue Ribbon Panel of rheumatologists, the more points you get. Learn more about the panel and how the brackets work online.
ADVERTISEMENT
SCROLL TO CONTINUE
Connect with RheumMadness by subscribing to the podcast and joining the conversation on Twitter, #RheumMadness. Learn more on the RheumMadness website.
Region: Animal House Team: Dog Osteoarthritis
Osteoarthritis (OA) is the most common form of arthritis. Approximately 300 million people worldwide are affected by hip and knee OA.1 OAis associated with significant morbidy, disability and decreased quality of life. It's no secret: We need better treatment options for OA. Currently, no U.S. Food & Drug Administration-approved disease-modifying drugs exist for OA, and managing symptoms remains the mainstay of therapy.
So how do we improve our research efforts and search for a cure for OA? We may be able to turn to our loyal friend and companion: the dog.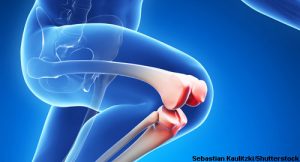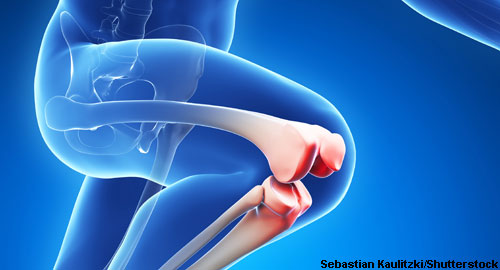 Dog OA shares a close resemblance to human OA, and treatments are often similar. Dogs and humans have similarities in anatomy, disease heterogeneity and OA progression. They also may share lifestyle, environmental and comorbid conditions (e.g., obesity) along with similar spontaneous diseases, such as hip dysplasia and cruciate ligament rupture, that result in OA. Dog models share more histopathology and pathogenesis factors with human OA than murine models. Example: Changes in articular cartilage proteoglycans are similar in the natural slow development of dog and human OA, but differ from experimentally induced OA.2 Accordingly, this finding may make dogs a better model for OA research than murine models.
ADVERTISEMENT
SCROLL TO CONTINUE
Wait, you want to do research on my best friend?
Studies using naturally occurring forms of dog OA may actually lead to an overall reduction in the number of animals used for experimental research and to a greater understanding of spontaneous OA.
How can we improve basic and clinical research in OA?