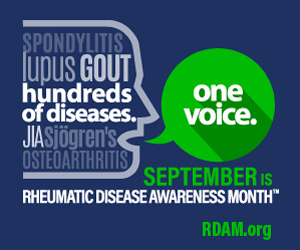 Throughout September, the ACR will mark its fifth annual Rheumatic Disease Awareness Month (RDAM), during which it aims to raise public awareness of the over 100 different medical conditions treated by rheumatologists. Although this year's effort shares some similar goals to earlier ones, the ongoing COVID-19 crisis brings to light specific challenges facing rheumatology patients and their medical providers.
RDAM was launched in 2016 as an outgrowth of the ACR's Simple Tasks Campaign to raise awareness about the impact of rheumatic disease on patients with lawmakers, advocacy groups and the public. Ultimately, the campaign seeks to improve the visibility of rheumatic diseases and, in so doing, help support more favorable public policy initiatives.
ADVERTISEMENT
SCROLL TO CONTINUE
As in previous years, RDAM's overarching theme is Hundreds of Diseases. One Voice, with this year's specific emphasis being: "My disease may be invisible, but I'm not." Even though millions of Americans suffer from rheumatic illness, it's easy for patients to feel isolated. Even though rheumatic diseases are often multi-system, serious conditions, the symptoms may not be apparent to loved ones, friends and co-workers. It's easy for others to miss the severe personal impact of these diseases.
Economic challenges can also make rheumatology patients feel unseen. Results of previous national patient surveys have demonstrated that even patients with medical insurance sometimes can't pay for needed treatments. For some, their disease hampers their ability to sustain employment, even without the added pressures of the COVID-19 pandemic.
ADVERTISEMENT
SCROLL TO CONTINUE
All of these issues can lead patients to feel misunderstood by people who haven't grasped the nature of their disease flares or the practical, everyday challenges posed by their ongoing symptoms. It's important for people with rheumatologic conditions to know they are not alone. They are more than their disease.
Some rheumatic diseases, such as rheumatoid arthritis or osteoarthritis, may be familiar to many non-health professionals. However, many others remain obscure and unknown to a majority of people. Through its outreach efforts via RDAM, the ACR aims to give a voice to the many people suffering from these diverse conditions, which can affect patients' overall health and quality of life much more severely than many people realize.
Patients' Voices
Over the past four years, RDAM has coordinated with several celebrity spokespersons to help increase the public understanding of the symptoms of and risk factors and treatments for rheumatic disease, as well as the economic and personal challenges faced by individuals with rheumatic diseases. Actress Jennie Garth talked about her daughter's Still's disease, former quarterback Terry Bradshaw spoke about his experience with both osteoarthritis and rheumatoid arthritis, and tennis star Venus Williams shared her experience of living with Sjögren's syndrome.
ADVERTISEMENT
SCROLL TO CONTINUE
Instead of inviting a single celebrity spokesperson to partner with the ACR on public service announcements, this year's RDAM will focus heavily on individual patients' voices and perspectives. These voices will be highlighted in a series of videos recorded by three diverse patients suffering from different rheumatic conditions. The videos will be available on the RDAM website and the ACR's YouTube channel. Additionally, this year's RDAM campaign will, once again, feature a satellite media tour and social media campaign to spread awareness of these issues, emphasizing this year's theme.
Advocacy
Patients can play a key role in advocacy. In the COVID-19 era, this is more important than ever. Many rheumatology patients are at high risk for COVID-19, yet financial strains continue to mount on many physician practices, which provide key patient assistance. The RDAM website provides a template for patients to write to legislators to urge continued financial aid for rheumatology practices, as well as continued support for critical telemedicine services.
As another key advocacy component, patients are also encouraged to share their personal stories on the RDAM website. Patients can discuss their personal challenges, such as finding rheumatological care, getting access to needed medications or other thoughts about living with rheumatic disease. These can include issues related to COVID-19, such as the personal impact of hydroxychloroquine shortages.
The ACR would like to encourage its members to discuss these initiatives with rheumatology patients and their family members, directing them to the RDAM website. The website provides multiple resources, including general information on rheumatic diseases and COVID-19, as well as details on the Rheumatology Research Foundation. Key findings from the 2020 rheumatic disease patient survey will also be available on the website and social media, as well as during the satellite media tour.
Even before the COVID-19 pandemic, rheumatology patients were a medically vulnerable population, not always able to access the affordable care and treatments they urgently need. The COVID-19 pandemic and past several months have underscored that vulnerability and enhanced the need to increase public knowledge of the important role of rheumatologists and the needs of these patients. The ACR encourages its members to engage the patient community to tell their stories. Help them have their voices heard.
Ruth Jessen Hickman, MD, is a graduate of the Indiana University School of Medicine. She is a freelance medical and science writer living in Bloomington, Ind.