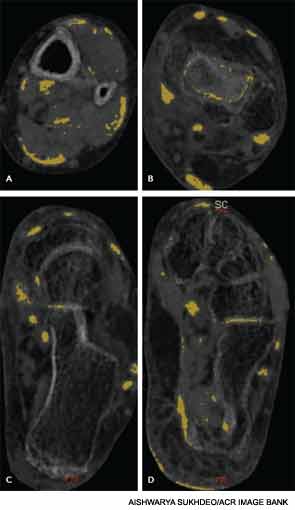 A dual-energy CT with spectral imaging analysis of the right ankle in a 50-year-old man with gout and chronic kidney disease shows extensive monosodium urate deposition (yellow). Adding nonsteroidal anti- inflammatory drugs and prednisone may increase the effectiveness of colchicine for the treatment of acute gout.
Toxicity & Drug Interactions
Pharmacologically, colchicine is lipid soluble, has 24–88% bioavailability, accumulates in leukocytes and has a peak concentration one hour after administration. Although it is safe, colchicine can be toxic if it cannot be metabolized correctly. Taken orally, colchicine is handled in three ways, Dr. Pillinger explained: It is pushed out of the gut via P-glycoprotein, metabolized by the CYP-3A4 enzyme and excreted in the kidneys. If any of these mechanisms is upset by other factors—medications that compete for the same metabolic pathway or impaired kidney function, for example—colchicine can cause liver or kidney toxicity.
ADVERTISEMENT
SCROLL TO CONTINUE
Medications of which rheumatologists should take note include HIV therapy, the antibiotic erythromycin and anti-fungal medications, Dr. Pillinger advised. Statins are another group that may have "overlapping issues" with colchicine, he added, perhaps due to competing metabolism along the CYP-3A4 pathway.
The key with potential drug contraindications is to "think about dosages," Dr. Pillinger advised. Colchicine package inserts have indications for adjusting dosages based on particular medications, although the "mystery," he added, is when a patient has more than one potential interaction with colchicine simultaneously—such as a patient on HIV therapy who also has kidney disease. The key, as with many medications, is to "use the lowest effective doses, adjust for renal or liver disease, and monitor sensibly," Dr. Pillinger said.
ADVERTISEMENT
SCROLL TO CONTINUE
Rheumatic Disease
Colchicine has been used for years in gout therapy—chronically at low doses to prevent attacks and in high doses to treat acute attacks. For acute attacks, the classic treatment regimen is 0.6 mg per hour until the patient experiences improvement, exhibits significant stomach upset and diarrhea, or to a limit of 4–6 g.
The AGREE Trial demonstrated a new way to treat gout, Dr. Pillinger said, which is what recently led the FDA to approve the drug. Researchers recruited patients with known gout who were fairly active and who were likely to experience an acute attack in the subsequent six months.2 Patients were randomized in the clinic and sent home with one of three regimens to use during their next acute gout attack: high-dose colchicine (0.6 mg/hr up to 4.6 mg), low-dose colchicine (1.2 mg, then 0.6 mg one hour later) or placebo. The primary endpoint was 50% improvement within 24 hours.