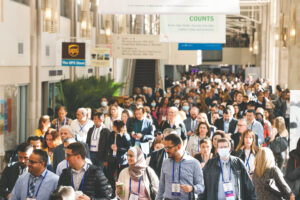 "I have found my professional home!" is what ACR and ARP leaders and staff love to hear from members. Now, with a pilot program that revamps the membership model, those devoted to the care of rheumatology patients will have an easier and even more fulfilling membership experience.
"Our team has worked diligently to enhance the value of the membership experience with a new website that offers enhanced learning experiences, seamless access to member profiles and benefits, and an all-new small team membership option," says ACR President-Elect Deborah Dyett Desir, MD, associate professor of clinical medicine in the Department of Medicine, Yale School of Medicine, Section of Rheumatology, Allergy & Immunology, New Haven, Conn. "I am delighted that we can offer such a robust, personalized experience to our members.
"Guided by our mission and vision, we have worked to streamline membership categories and enhance them with several new inclusive benefits," continues Dr. Desir. "Not only does this model offer a simplified application process, but its depth and breadth will help members [more easily] find the tools important to their practice and career development." 
Individual or Small Team Memberships 
"Like many rheumatologists," says Dr. Desir, "I am concerned about rheumatology's workforce shortage. Engaging fellows in training, early career rheumatologists and interprofessional team members is important [so we can] address the needs of our patients now and in the future. Building a strong foundation through a well-networked community, like that of the ACR and ARP membership, is the first step.
"The ACR/ARP is truly the ideal place for high-quality, rheumatology-specific training for individuals from all disciplines and skill levels. With a full range of knowledge from various quarters, the clinical team has the knowledge necessary to improve patient care.
"The best teams work together and learn together," she adds. "That's why the ACR/ARP support a team-based approach to rheumatology membership and education through our new small team membership option, providing extended benefits and discounts." 
Also supporting the new membership model is Aileen Ledingham, PT, MS, PhD, physical therapist at Mount Auburn Hospital, Cambridge, Mass., and ARP president elect. "I think this overhaul will result in more opportunities for ARP members," she says, "because if the whole office is signing up, then they will be included. Being part of a group is often a real driver of interest, and I think people will get more curious about what the organization can do for them."