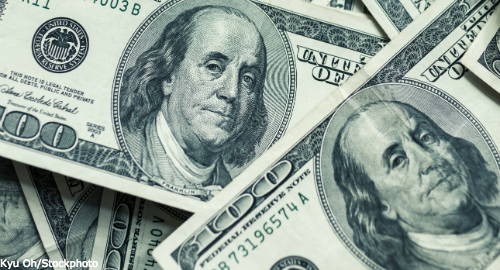 Rheumatologists' pay plateaued over the past year, according to a 2017 survey from Medscape.1,2 The specialty's practitioners earned an average annual salary of $235,000, up from $234,000 in the prior year's report. In the 2016 report, rheumatologist pay jumped 12%—the largest pay increase of the 26 specialties surveyed.3
You Might Also Like
Also By This Author
Anne Bass, MD, chair of the ACR's Committee on Rheumatology Training & Workforce Issues, says that although the year-to-year data can be misleading, this year's leveling off is just another sign more work needs to be done to raise rheumatologists' salaries and lure practitioners to the field.
ADVERTISEMENT
SCROLL TO CONTINUE
"Progress is not at all being made in that regard," says Dr. Bass, program director for the Rheumatology Fellowship Program at the Hospital for Special Surgery in New York. "If you look at the fields that earn a lot of money, they tend to be procedural fields. And the fields that are cognitive … [are] low paying."
The highest earners in Medscape's annual review were the fields of orthopedics ($489,000 average annual salary), plastic surgery ($440,000 average annual salary) and cardiology ($410,000 average annual salary). Interestingly, plastic surgery also saw the highest increase, with a 24% bump in the annual average salary.
ADVERTISEMENT
SCROLL TO CONTINUE
Cognitive fields brought up the rear of the salary train. Pediatrics had the lowest average annual salary at $202,000, followed by family medicine ($209,000), endocrinology ($220,000) and internal medicine ($225,000).
"It's just the outcome of the way the reimbursement is structured, and I don't see any signs of that changing," Dr. Bass says.
Dr. Bass says rheumatology is in the bottom third of salaries because of demographics. She notes that some 55% of rheumatology trainees are international medical graduates, who Medscape reported earn less than U.S.-trained physicians. On average, women also earn less. "One thing [changing] in rheumatology is that we're going from a field that was traditionally 60% male to one that will be—in 10 years—60% female," she adds.
ADVERTISEMENT
SCROLL TO CONTINUE
The Value
Payment structures remain a big factor. Rheumatology is an outpatient specialty, and reimbursement in that setting simply "is not as good as in the inpatient setting. Hospitalized patients tend to be more acutely ill, so there is a certain rationale to that," Dr. Bass says. "I think what people don't recognize is the [effect] chronic rheumatic diseases have on human productivity. I mean, you can have hypertension and need to be managed on a chronic basis by your doctor, but in the short term, it doesn't impede your ability to go to work or accomplish any of your activities. Whereas, rheumatic diseases often make people too ill to go to work, or they are arthritic and they can't walk; they can't lift something up. There are huge societal costs in terms of lost labor and those kinds of things."
Treating those patients should be more highly valued, Dr. Bass says, but "if you ask what a rheumatologist does, 99 out of 100 people have no idea. So I think we have a lot of work to do to … make people realize what we do and make people recognize the societal costs of these diseases," she notes.
The Medscape data show that the doctors are committed to the work. Some 83% of rheumatologists would choose medicine again—the highest rate of any specialty—and 79% would choose rheumatology. Yet just 48% of rheumatologists feel they are fairly compensated.
"We find our work intellectually stimulating, and rheumatologists tend to be nice and congenial," Dr. Bass says. "It's a nice community. And I think because of the ACR, we're much more cohesive than other fields are. So those are all good things."
Dr. Bass and the ACR want to make recruitment to rheumatology more of a front-burner issue. In fact, recruiting trainees to all lower-paid cognitive fields is an important strategy to ensure those fields have adequate manpower in the coming decades.
"There's no incentive to accomplish societal needs," Dr. Bass adds. "Nobody in the government is saying, 'What we really need are more primary care specialists or more rheumatologists or whatever, and therefore, we're going to adjust reimbursement to attract people to those specialties.'
"Nobody is taking that 30,000-foot view, and they really need to," Dr. Bass says. "And it's not just rheumatology that's going to have a workforce shortage. There are a lot of specialties that will face the same [struggle] in the coming decade. And Congress really does need to think in a bigger way about how to redirect trainees."
---
Richard Quinn is a freelance writer in New Jersey.
References
Grisham S. Medscape physician compensation report 2017. Medscape. 2017 Apr 12.
Grisham S. Medscape rheumatologist compensation report 2017. Medscape. 2017 Apr 12.
Peckham C. Medscape physician compensation report 2016. Medscape. 2016 Apr 1.