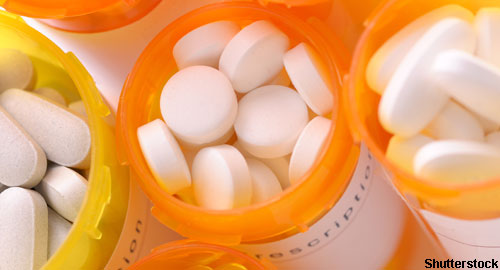 After reviewing a 10-year study, the U.S. Food and Drug Administration (FDA) cautions that prescribing clarithromycin to patients with heart disease may potentially increase the risk of heart problems or death. Additionally, the FDA approved Apadaz to treat acute, short-term pain.
Also by this Author
FDA Warns of Heart Risk with Clarithromycin
The FDA is advising caution before prescribing clarithromycin (Biaxin), an antibiotic, to patients with heart disease due to a potential increased risk of heart problems or death years later.1 This recommendation comes after the FDA reviewed the results of a 10-year follow-up study in coronary heart disease patients from a large clinical trial (CLARICOR), during which this safety issue was first identified.
During the study, an unexpected increase in deaths occurred in coronary heart disease patients who had received a two-week course of clarithromycin. This effect was noted during follow-up at one year or more. No obvious explanation exists for why clarithromycin may cause more deaths than placebo.
Additionally, some observational studies found an increase in deaths among patients treated with a two-week course of clarithromycin after follow-up at one year or longer. Some studies have noted other serious heart-related problems, whereas other observational studies found no increased risk of death or serious heart-related problems from clarithromycin.
These studies all had design limitations. Of the six observational studies published to date in patients with or without coronary artery disease, two studies indicated long-term risks from clarithromycin, but four did not. The results from CLARICOR provide the strongest substantiation of the heart risk increase vs. the observational study results.
CLARICOR was a prospective, placebo-controlled trial. A determination for why the mortality risk is greater for heart disease patients could not be determined. No prospective, randomized, controlled trials with prespecified long-term safety outcome measures after clarithromycin treatment in patients who do not have heart disease have been conducted. Therefore, the results of CLARICOR cannot be applied to patients who do not have heart disease. 
Healthcare professionals should be aware of this risk and weigh the risks and benefits before prescribing clarithromycin, particularly in patients with heart disease—even for short periods of time. Other available antibiotics should be considered. Patients with heart disease should be advised of the signs and symptoms of cardiovascular problems, regardless of using clarithromycin.
Benzhydrocodone & Acetaminophen Receives FDA Approval
An immediate-release combination of benzhydrocodone and acetaminophen (Apadaz) has been FDA approved for acute pain management. The treatment, which has a short-term treatment course of no more than 14 days, is designed to treat pain severe enough to require an opioid when alternative treatments are not adequate.2
Benzhydrocodone is a prodrug of hydrocodone developed using proprietary Ligand Activated Therapy. When Apadaz is ingested, gastrointestinal tract enzymes cleave the ligand from benzhydrocodone, releasing hydrocodone, to work therapeutically.
---
Michele B. Kaufman, PharmD, BCGP, is a freelance medical writer based in New York City and a pharmacist at New York Presbyterian Lower Manhattan Hospital.
References
U.S. Food and Drug Administration. FDA drug safety communication: FDA review finds additional data supports the potential for increased long-term risks with antibiotic clarithromycin (Biaxin) in patients with heart disease. 2018 Feb 22.
KemPharm Inc. News release: KemPharm announces FDA approval of Apadaz (benzhydrocodone and acetaminophen) for the short-term management of acute pain. 2018 Feb 23.