A: The need for specialists in rheumatology will only increase. And I think physicians need to recognize how beneficial nurse practitioners, physician's assistants and therapists can be to… extend their practice and help them care for their patients.
ARHP Distinguished Scholar Award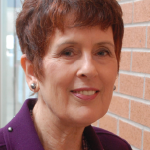 Elizabeth Badley, MSc, DPhil
Senior Scientist, Division of Health Care and Outcomes Research, Krembil Research Institute, University Health Network, Toronto; Professor Emeritus, Division of Epidemiology, Dalla Lana School of Public Health, University of Toronto, Canada
Background: Dr. Badley's major focus is the epidemiology of chronic and disabling conditions, using arthritis and musculoskeletal disorders as models for issues relating to quality of life and access to healthcare. "We need to understand more about the impact of arthritis so that whatever we do to help people with arthritis, we know what the priorities are," she says. "And in particular, we need to increase public awareness of arthritis and its impact because it is a sadly neglected disease, at least in terms of public perception and funding and the number of researchers working in the field."
As a health services researcher who moved to Canada from the United Kingdom in 1989, Dr. Badley has focused on combining community data with an interdisciplinary approach. In 1991, a major research award helped her found the Arthritis Community Research and Eventuality Unit. She also worked on the development of what became the World Health Organization Internal Classification of Functioning Disability and Health.
As a longtime member of the ARHP, she helped organize clinical research conferences in 2004–2006. She's widely published on the epidemiology of musculoskeletal disorders.
Q: You've focused much of your career on the value of an interdisciplinary approach. Why?
A: We've gone out of our way to include not only rheumatologists, but also family physicians, allied health professionals and social and behavioral scientists. A range of disciplines is important because all these insights are necessary.
Q: You talk about the need for more awareness. Do you feel that changing at all?
A: It's slowly changing. Perhaps the most marked thing now versus when I first arrived, the Public Health Agency of Canada, our equivalent of the Centers for Disease Control and Prevention (CDC), had then absolutely no presence in arthritis at all. There are now things happening in that area. There have been a couple of national publications on the impact of arthritis, so, yeah, things are slowly, slowly changing. But never fast enough, and there's never enough money.