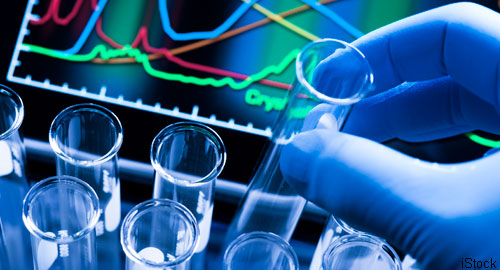 Postmenopausal women with rheumatoid arthritis (RA) and osteoporosis require treatment for both conditions. One option for physicians is to prescribe oral bisphosphonates, which chemically bind to calcium hydroxyapatite in bone and decrease bone resorption without blocking the formation of osteoclasts. Alternatively, physicians can now prescribe denosumab, which was approved by the U.S. Food and Drug Administration in 2010 as a treatment for post-menopausal osteoporosis.
Denosumab is distinct from a bisphosphonate; it acts on osteoclasts and their precursors to prevent the interaction of RANKL with RANK, its receptor. Thus, denosumab blocks the formation, function and survival of osteoclasts. It is given subcutaneously twice a year, and its use has been associated with a reduction in the risk of vertebral, nonvertebral and hip fractures. The Fracture Reduction Evaluation of Denosumab in Osteoporosis Every 6 Months (FREEDOM) trial demonstrated that denosumab is more effective in reducing the risk of vertebral fracture than other oral osteoporosis agents.1 It is also effective at reducing bone resorption and can increase bone mineral density in the lumbar spine and hip.
RANKL and RANK, the denosumab drug targets, belong to the tumor necrosis factor (TNF) superfamily and are also expressed on a variety of lymphoid cells, including activated T and B lymphocytes. Their presence on these cells has prompted concerns that the use of denosumab may increase the risk of cancer and infection. Although clinical trials have not revealed such increases, concerns remain that vulnerable individuals will experience an intolerable increase in infection. One such vulnerable subpopulation is women with RA who are prescribed TNF inhibitors or other biologics that are themselves associated with increased risk of infections.
At the 2016 ACR/ARHP Annual Meeting, Purva Chhibar, MD, rheumatology fellow, and Glenn Ehresmann, MD, rheumatologist, at the University of Southern California in Los Angeles presented the results of their retrospective chart review in a poster session. They sought to determine the rate of infections in patients prescribed a combination therapy of denosumab and either TNF inhibitors or other biologics. The investigators reviewed data from 40 patients in their rheumatology clinic who had been on denosumab and a TNF inhibitor/other biologic for five years.2
The postmenopausal women (age 70 ± 9.8 years) had a diagnosis of RA and most (70%) were on TNF inhibitors, with only 30% on other biologics. "In our experience, the addition of denosumab to biologics, including TNF inhibitors, for patients with RA, for an average of five years of therapy, did not increase the risk of infection beyond what would have been expected for the patients' disease, comorbidities and medications," writes Dr. Chhibar in an email to The Rheumatologist.