Her basic laboratory tests were unremarkable except for an anemia with a hemoglobin of 11.9 (reference 12.0–16.0 g/dL). A high-sensitivity C-reactive protein (hs-CRP) was 19 (reference <7.4 mg/L) with an erythrocyte sedimentation rate (ESR) of 5 (reference <25 mm/hr). A transesophageal echocardiogram revealed thickening of the ascending aorta, severe aortic insufficiency with a flail right cusp, aortic root dilation and thickening of the valve. Her left ventricular ejection fraction was 35%.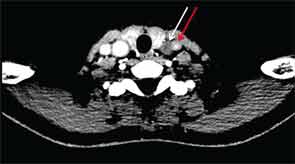 Figure 1: CT angiography of the neck axial view demonstrating complete occlusion of left common carotid artery (white arrow) and significant wall thickening of the left subclavian artery (red arrow).
CT of the neck showed complete occlusion of left common carotid artery immediately above the stump (see Figure 1) and complete occlusion of the left internal carotid artery with retrograde filling via the circle of Willis. Significant wall thickening and multiple areas of irregularity and dilatation were seen in the right innominate, right common carotid and left subclavian arteries. A CT angiogram (CTA) of the chest, abdomen and pelvis demonstrated a dilated ascending and descending thoracic aorta with a maximum dimension of 4 cm with concentric wall thickening extending to the midthoracic aorta (see Figure 2). There was no involvement of her abdominal aorta.
Pages: First | ← Previous | 1 |2 | 3 | ... | Next → | Last | Single Page