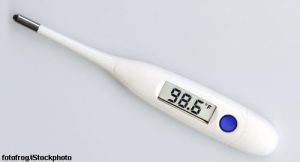 A study published online in the Annals of Rheumatic Diseases proposes new evidence-based classification criteria for a number of relatively rare, hereditary, autoinflammatory fevers. These conditions flare up recurrently or periodically and are seen mostly, but not exclusively, in the pediatric population.1
Hereditary recurrent fever syndromes are caused by genetic disorders that are secondary to mutations in genes involved in the body's innate immune response. They are not likely to be encountered often in routine clinical practice, but rheumatologists should not assume they will never see them, says Hal M. Hoffman, MD, professor of pediatrics and medicine and chief of the Pediatric Division of Allergy, Immunology and Rheumatology, University of California, San Diego. He is a member of the international panel that developed the new criteria.
The new classification criteria are not intended to be used to diagnose the condition and should not be used interchangeably with diagnostic criteria by frontline clinicians, Dr. Hoffman says. But they are useful to help rheumatology professionals better understand how these rare conditions are defined and the differences between them.
In the absence of clear classification and diagnostic criteria, insurance companies may deny coverage for the very expensive medications used to treat these rare conditions. Countries where the government, not private insurance companies, makes these decisions also want clear criteria for approving coverage, he notes.
Putting Patients into Boxes
"The majority of patients who present with recurrent fevers don't fit neatly into a single disease diagnostic box. Some may have oligogenic or complex disorders in which environmental factors are playing a role," Dr. Hoffman says. "We try to teach rheumatologists about the major features of these diseases, and how to recognize clinical clues that help to make a diagnosis."
Recent discoveries by researchers of systemic autoinflammatory diseases point to a common disease mechanism based on exaggerated activity of different parts of the innate immune system. These findings have led to effective therapies that are now available for many of these syndromes. Example: In the CLUSTER study, canakinumab was shown to be effective for controlling and preventing flares in patients with colchicine-resistant familial Mediterranean fever, as well as in patients with two other hereditary, recurrent fevers.2
A variety of classification or diagnostic criteria have been used in the past for different hereditary recurrent fever disorders. But overall, those criteria were not very accurate or did not incorporate genetic findings, according to the new guideline's international expert author panel. This group of diseases is commonly defined by episodes of fever and inflammatory flares in the absence of autoantibodies. Musculoskeletal, abdominal and skin symptoms are often present during these flares. Some of the most distinguishing features include the type of rash or the duration of episodes.
Autoinflammatory diseases should be suspected when a patient presents with recurrent episodes of fevers that recur over months or years in the absence of an associated viral or bacterial infection, and when autoimmune disease and malignancies have been excluded. The new guidelines address the following recurrent fevers, defined in terms of their mutation and their clinical manifestations:
Familial Mediterranean fever, defined by presence of the MEFV gene, which provides instructions for making a protein called pyrin, and presenting at least one of the following: arthritis, chest pain or abdominal pain;
Tumor necrosis factor (TNF) receptor-associated periodic fever syndrome, defined by confirmation of the TNF genotype and presence of myalgia, migratory rash, periorbital edema and/or familial connections;
Mevalonate kinase deficiency, defined by mutations in the MK gene and presence of gastrointestinal symptoms, cervical lymphadenitis or aphthous stomatitis; and
Cryopyrin-associated periodic syndrome, defined by a mutation of NLRP3 and presence of urticarial rash, red eye or neurosensorial hearing loss.
The new analysis also incorporates undefined recurrent fevers and a related group of more common non-hereditary, periodic fevers, aphthosis, pharyngitis and adenitis, which tend to be more common in children.
A Complicated Process to Reach Consensus
The development of the new guidelines was spearheaded by lead author Marco Gattorno, MD, Istituto Giannina Gaslini, Genoa, Italy, and by the Paediatric Rheumatology International Trials Organization (PRINTO), which links European centers that are following patients diagnosed with, or suspected of having, these disorders. PRINTO says fragmentation of treatment for these cases exists across different treatment centers and countries due to the lack of classification criteria.
A large group of European and North American researchers were asked to participate in a lengthy, multi-step process that included periodic online communication, an in-person meeting in March 2017 and a lot of heated discussions, Dr. Hoffman says. The process started with selection of clinical, laboratory and genetic candidate variables and cross-sectional validation by an international panel of experienced clinicians using the statistical evaluation of real patients for which researchers had both genetic information and good clinical phenotypes.
Clinical information on an initial group of 360 patients from PRINTO's Eurofever Registry was presented to a panel of 25 clinician researchers and eight geneticists, who were asked to propose their best educated guesses on classification. Disease consensus was achieved for inclusion of 281 (78%) of these 360 initial patients.
"We were then given the genetic information and asked if that would change our minds about the initial classification. They brought us all together in beautiful Genoa, Italy, to talk about our experience with these diseases," Dr. Hoffman says. "The process taught us all about our misconceptions."
The criteria developed in this way also received cross-sectional validation.
The real advance of this approach has been to come up with criteria combining clinical manifestations with genotypes, with a new emphasis on molecular analysis, in trying to clarify these conditions.
---
Larry Beresford is a medical journalist in Oakland, Calif.
References
Gattorno M, Hofer M, Federici S, et al. Classification criteria for autoinflammatory recurrent fevers. Ann Rheum Dis. 2019 Aug; 78(8):1025–1032.
De Benedetti F, Gattorno M, Anton J, et al. Canakinumab for the treatment of autoinflammatory recurrent fever syndromes. N Engl J Med. 2018 May; 378(20):1908–1919.