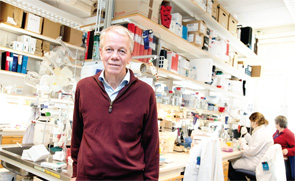 In spring 2004, Professor Lars Klareskog, MD, PhD, head of rheumatology at Karolinska Institutet, arrived in New York to begin a planned collaboration with Peter K. Gregersen, MD, principal investigator of the North American Rheumatoid Arthritis Consortium (NARAC) and director of the Robert S. Boas Center for Genomics and Human Genetics, North Shore LIJ Institute in Manhasset, N.Y.
Dr. Gregersen recalls Dr. Klareskog's arrival as a "very dramatic event." By the early 2000s, the NARAC's efforts to map RA disease genes had yielded modest results, but it had become clear that more substantial data sets of gene markers were needed. Dr. Gregersen and Dr. Klareskog had discussed the opportunities of doing large-scale genetic studies and had established "a clear understanding that we were both on the same page," Dr. Gregersen recalls. Their understanding was dramatically demonstrated upon Dr. Klareskog's arrival. Fellow passengers could not have guessed that the tall, lanky doctor getting off the plane from Stockholm carried in his bag the DNA data from more than 2,000 people whose information (and consent to the study) was part of the Swedish Epidemiological Investigation of Rheumatoid Arthritis (EIRA) collections. The event points to Dr. Klareskog's vision of "how one should do research and what kind of collaborations you need," says Dr. Gregersen.
ADVERTISEMENT
SCROLL TO CONTINUE
That union of U.S. and Swedish RA data sets has yielded important advances in our understanding of the genetic and environmental factors in the age of onset of RA. In May 2013, Drs. Gregersen and Klareskog, along with Robert J. Winchester, MD, professor of pediatrics, medicine and pathology in the Division of Rheumatology at Columbia University's Department of Medicine, were awarded the Crafoord Prize in Polyarthritis, given by the Royal Swedish Academy of Sciences.
The prestigious prize is one of many Dr. Klareskog has earned in his multifaceted career as a scientist. He initially made major contributions with his first purification of the human MHC class II molecules,1 followed by the description of MHC class II-dependent cell activation as a pathogenic principle in rheumatoid arthritis.2 His work expanded from there; he was active in the development of collagen arthritis and simple adjuvant arthritis disease models in rodents. And, as already noted, he has also been in the forefront of linking genetics and environmental factors in RA.
ADVERTISEMENT
SCROLL TO CONTINUE
From Mathematics to Molecular Domains
Dr. Klareskog's career began not in the life sciences, but in mathematics. After three years of study, however, he determined that, while mathematics was "fascinating," it did not hold interest for him as a possible lifelong career. Personal experiences and discussions with friends at the University of Uppsala pointed the way to medicine. During the early years of his medical studies, he was involved with public and international health, an interest he has pursued over his career, and in the end combined with genetics and molecular immunology. In these early days, he also edited a radical magazine, MOTPOL. That experience with editorial and political argumentation, he says, later proved beneficial as he began to take leadership roles in scientific organizations.
Then something shifted. While pursuing his doctorate in medical and physiological chemistry, Dr. Klareskog was exposed by his mentor, P.A. Peterson, to "the fascinating molecular and biological problem" of explicating the functions of transplantation antigens. "It became apparent that these molecules had a major influence on immune response, so I was struck by that very basic problem of how the transplantation antigens worked," he now recalls.
Then he and his colleagues discovered that Langerhans cells in the skin take up and process microbial antigens to become fully antigen-presenting cells.3 At that point, the descriptive research on Langerhans cells was more than 100 years old (skin Langerhans cells were originally misidentified as nerve cells), although their function had not, at that point, been well understood. "I had a little deposit [of the cells] in my hand, and I could then understand the hundred years of research a bit better," Dr. Klareskog recalls. "That was an absolutely fascinating moment."
ADVERTISEMENT
SCROLL TO CONTINUE
Other Links
During his first postdoctoral program, Dr. Klareskog concentrated on skin immunology with Langerhans cells. But then another shift occurred: He collaborated with a group of surgeons who had obtained biopsies from patients with inflammatory joints. In his lab, he discovered in samples from joint biopsies cells similar to the Langerhans cells he had found in skin tissue. He began to explore how T cells and MHC class II antigens in the joint interact. At this point, he recalls, "It was obvious to postulate the molecular mechanisms behind the immune reactions of RA, the genetics of which had recently been described. So the knowledge gained from transplantation antigens supplied the molecular part of the story."2
Why did Dr. Klareskog move from skin immunology to rheumatic disease? "I thought the disease was extremely undervalued, and it was a bit of challenge," he now says of this line of research. "In a way, it was returning to my interest in public health thinking."
He handed over the skin research to one of his first PhD students and launched into a pursuit of the mechanisms of RA. He obtained grant funding from the Swedish Medical Research Council and brought his research project to Hans Wigzell's immunology lab at Uppsala University. Dr. Wigzell, who later became Karolinska president, encouraged Dr. Klareskog to set up his arthritis group in the immunology lab.
As he advanced up the academic ladder at Uppsala University, Dr. Klareskog also expanded his research directions. In concert with Rikard Holmdahl, he worked on characterizing a collagen arthritis model in rodents. Tracing the molecular pathways of disease stimulation in mice, they reasoned, could elucidate the types of immune reactions to environmental stimuli in humans.

Dr. Klareskog
Dr. Klareskog did not want to abandon the clinical side of rheumatology, so he continued his education as a clinical fellow at Uppsala University Hospital from 1983–90. He pursued research part time during this period. Then, in 1993, Dr. Wigzell, who had moved to the Karolinska, recruited him to join the Karolinska Rheumatology Clinic and contribute to the establishment of the Center for Molecular Medicine, where rheumatology research now comprises 12 collaborating research groups.
Returning to his interest in the environment and public health, Dr. Klareskog then formed alliances with epidemiologists to better pursue the mystery of genetics and environmental factors in RA. Taking advantage of the Swedish RA patient registry, he set up a large, case-control study with epidemiologist Lars Alfredsson.
Since 1995, the registry work has incorporated collection of details from RA patients that had heretofore not been explored, such as lifestyle and environmental exposures before onset of RA. Dr. Klareskog admits that many other clinical researchers at the time questioned the collection of these details. But then, with the genetic revolution in the early 2000s, he and his colleagues were positioned to begin to examine genetic and environmental interactions, such as the venture with Dr. Gregersen's lab in 2005. The EIRA project has increased understanding of how environmental factors, such as smoking, can trigger immune reactions against defined autoantigens.4-7
Collaboration Is Key
Throughout his career, Dr. Klareskog forged his notion of the role of collaboration. To advance the science, he reasoned, it is imperative to foster sharing rather than rationing breakthroughs.
"In order to characterize gene/environment interactions in rheumatoid arthritis, he had to work with many people from many countries and get them to trust each other, share material and share data," notes Jane E. Salmon, Professor of Medicine and Professor of Obstetrics and Gynecology at Weill Cornell Medical College and the Collette Kean Research Professor at the Hospital for Special Surgery in New York.
The collaborative approach has also informed his mentorship of trainees. At last count, more than 60 fellows have trained under his supervision. "Being a professor at Karolinska allows you to encourage younger fellows and instill in them the fascination with scientific discovery, and it is, of course, gratifying to share scientific work with colleagues and trainees from all over the world," he notes. In fact, there are currently more than 20 different nationalities represented in the rheumatology research laboratory at the Karolinska.
Dr. Klareskog is both "a good mentor and a good scientist," remarks Alvin F. Wells, MD, PhD, director of the Rheumatology and Immunotherapy Center in Franklin, Wis., and a leading U.S. clinical trials researcher. Dr. Wells was Dr. Klareskog's first postdoctoral fellow while the latter was teaching at Uppsala University in 1988. Since that time, the two have published nine papers together as their research interests have overlapped. "He is inclusive and lets others take a leadership role, gives credit where credit is due and is one of our outstanding fellow leaders," Dr. Wells says.
Equally important has been the opportunity to contribute to collaborations using the opportunities that have been provided by EU funding of collaborative networks in Europe. Developed together with many European colleagues, most notably professor Tom Huizinga from Leiden, these collaborations have led to productive networking both in European and international arthritis research in general. They have also contributed to the development of the new paradigm of arthritis prevention that is based on the improved understanding of how genes and environment gradually can cause the development of chronic inflammation in joints.8
Dr. Wigzell, who has watched Dr. Klareskog's growth as a scientist and collaborator, notes that his colleague's earliest concerns with public health continue to inform his current approach to collaborations. One of Dr. Klareskog's most successful ventures, he notes, is COMBINE Sweden, a consortium he initiated in June 2008, comprising academic medical researchers, clinicians, patient participants and industry representatives to enhance collaborations between stakeholders, with the motto, "Controlling Chronic Inflammatory Diseases with Combined Efforts." The project also nurtures the careers of young rheumatologists, offering sponsorship and project management experience.
A Life in Science
Dr. Klareskog is well respected in the scientific community. "One of his attributes as a scientist is his great breadth," says David S. Pisetsky, MD, PhD, professor of medicine and immunology at the Duke University Medical Center in Durham, N.C., chief of rheumatology at the Durham VA Medical Center and former editor of A&R (2000–2005) and of The Rheumatologist (2006–2011). Dr. Pisetsky, who considers Dr. Klareskog both a colleague and a good friend, notes that Dr. Klareskog's other great strength has been the creation of collaborative networks. Both his scientific genius—he is an accomplished biochemist, immunologist, geneticist and epidemiologist—and his ability to collaborate, says Dr. Pisetsky, have contributed to his success.
"To move from one area of science to another requires extraordinary skill," notes Dr. Pisetsky, "because you have to establish your credibility with each discipline. It does not happen every day that biochemists go into epidemiology. In addition, it is very difficult to create these networks and to keep them going."
In addition to his academic and research pursuits, Dr. Klareskog has been a vigorous participant in many national and international organizations. From 1995–2012 he was a member of the Karolinska's Nobel Assembly; he has participated as a member of EULAR's scientific committee; he has chaired and co-chaired the Scientific Board of the Swedish Rheumatism Association, a patient organization; and he has served on advisory boards of several pharmaceutical and biotechnology companies. He has been devoted to the development of international consortia in arthritis research.
Asked whether he took time off, he answers simply, "Rarely."
A life in science, he explains, is "a privileged life that contains so many opportunities for exploration of different scientific and social cultures and so many opportunities to meet with engaged humans beings from all over the world. So 'time off' is not what you wish for as a scientist," he says—"in particular when being married to an equally engaged and internationally active scientist." Dr. Klareskog's wife is Ingrid Lundberg, professor in the same department at the Karolinska.
---
Gretchen Henkel is a medical journalist based in California.
References
Klareskog L, Sandberg-Tragardh L, Rask L, et al. Chemical properties of human Ia antigens. Nature. 1977 Jan 20; 265(5591):248–251.
Klareskog L, Forsum U, Scheynius A, et al., Evidence in support of a self-perpetuating HLA-DR-dependent delayed-type cell reaction in rheumatoid arthritis. Proc Natl Acad Sci U S A. 1982 Jun;79(11):3632–3636.
Klareskog L, Tjernlund U, Forsum U, et al. Epidermal Langerhans cells express Ia antigens. Nature. 1977 Jul 21;268(5617):248–250.
Klareskog L, Stolt P, Lundberg K, et al. A new model for an etiology of rheumatoid arthritis: Smoking may trigger HLA-DR (shared epitope)-restricted immune reactions to autoantigens modified by citrullination. Arthritis Rheum. 2006 Jan;54(1):38–46.
Plenge RM, Seielstad M, Padyukov L, et al. TRAF1-C5 as a risk locus for rheumatoid arthritis–a genome wide study. N Engl J Med. 2007 Sep 20;357(12):1199–1209.
Klareskog L, Catrina AI, Paget S. Rheumatoid arthritis. Lancet. 2009 Feb 21;373(9664):659–672.
Amara K, Steen J, Murray F, et al. Monoclonal IgG antibodies generated from joint-derived B cells of RA patients have a strong bias toward citrullinated autoantigen recognition. J Exp Med. 2013 Mar 11;210(3):445–455.
Klareskog L, Gregersen PK, Huizinga TWJ. Prevention of autoimmune rheumatic disease: state of the art and future perspectives. Ann Rheum Dis. 2010 Dec; 69(12):2062–2066.