That single office visit sparked Dr. Lundberg's interest in muscle inflammation. She spent a post-doctorate year at the neuromuscular lab at Mayo Clinic in Rochester, Minn. Upon her return to Sweden, she established a myositis clinic at Karolinska. She was named professor in 2003, and since 2012 has chaired the rheumatology unit.
She has been an active and longtime ACR member, serving as associate editor of Arthritis & Rheumatology and contributing in various ways to the Annual Meeting. She is active in European and Swedish organizations, and in 2015 chaired the first International Conference on Myositis. "The international community that we collaborate with—it is very stimulating. You make friends and increase your knowledge and stimulate your daily work."
ADVERTISEMENT
SCROLL TO CONTINUE
Q: What is the value of mentorship?
A: Being a mentor, you learn so much from your students—from their backgrounds and their questions and their thoughts. I think that is really rewarding. Mentoring is a lot of discussion, attitude, how to solve problems, how to deal with patients, how to deal with grants that are turned down or papers that are rejected. It is the human contact that is valuable.
ADVERTISEMENT
SCROLL TO CONTINUE
Q: You advocate for women in medicine/research. Why is that near and dear to your heart?
A: I think we need both men and women in healthcare research. We contribute different ideas and goals and expertise. There are more obstacles for women, to combine career and family, but I think it is very important that we really support women, to be able to stay in their career and still have a family life. Otherwise, we miss a lot of good people and good ideas.
Excellence in Investigative Mentoring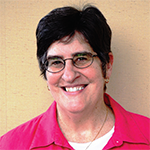 Marian Hannan, DSc, MPH
Professor of Medicine, Harvard Medical School, Boston; Co-Director, Musculoskeletal Research Center, Institute for Aging Research, Hebrew SeniorLife
ADVERTISEMENT
SCROLL TO CONTINUE
Background: In six years as editor-in-chief of Arthritis Care & Research, Dr. Hannan has been in the unique position to have a sneak peek at the bolus of good work being done in the field of rheumatology. She says she has watched the field grow in ways that "really, really help our patients."
"When I look at articles that were published six years ago, they were incredibly helpful. And when I review articles that we are putting together, now, for the next table of contents, they also have information that is more than just incrementally better for patients. There is a lot of information that builds across time," Dr. Hannan says. "It is exciting, and, I am, on a weekly basis, being educated in a way that is fun and informative and makes the world a better place."