A: Hypotheses don't have the same role in research as before because of the magnitude of the data that you deal with. There's no simple way of looking at this amount of data to come out with a simple conclusion. It's just different. I think important progress in research is going to be in the realm of bioinformatics and biostatistics, combining complicated data sets with each other. We're learning that subtle changes in genes or exposures in the environment over time can have a big clinical impact on a patient, but detecting small changes will be very challenging, although very interesting.
Distinguished Clinical Investigator Award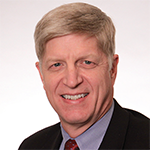 James O'Dell, MD
Stokes Distinguished Professor and Vice Chair of Internal Medicine and Chief of Rheumatology at the University of Nebraska Medical Center (UNMC) and the Omaha Veterans Affairs Hospital
ADVERTISEMENT
SCROLL TO CONTINUE
Background: Dr. O'Dell's 32-year career in rheumatology has been a veritable renaissance. "I've been privileged to live in kind of a Golden Age of rheumatoid arthritis (RA) clinical advances," he says. "The prognosis for a patient with RA today is a whole world different than it was when I was a fellow in the early 1980s, and to see that and to see the impact that we can have on these patients' lives has been humbling and a tremendous honor."
The native Nebraskan received his medical degree and completed his residency and chief residency at the University of Nebraska in Omaha. He did a clinical and research fellowship in rheumatology at the University of Colorado in Denver in 1984.
ADVERTISEMENT
SCROLL TO CONTINUE
He's been at UNMC since, rising to vice chair of internal medicine and chief of rheumatology at both UNMC and the Omaha Veterans Affairs hospital.
Dr. O'Dell, a former ACR president, founded and has directed the Rheumatoid Arthritis Investigational Network (RAIN) for the past 26 years.
Q: What has RAIN meant to you over the course of your career?
ADVERTISEMENT
SCROLL TO CONTINUE
A: In the mid-'90s, in particular—but even before that time—we perceived that there was going to be a need to ask questions that were really important for patients and for the clinicians taking care of them, rather than to get a product to market. That's what RAIN has tried to do through the years: [ask] questions that are important to patients with rheumatoid arthritis and to clinicians, … and we've been very fortunate through the years to be able to do some studies that we believe have made a difference in the way clinicians care for rheumatoid arthritis [patients] around the world.