Ann Kunkel Advocacy Award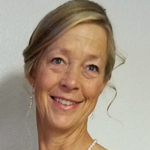 Named in named in honor of ARHP member Ann Kunkel, a patient educator in pediatric rheumatology whose enthusiasm and persistence has inspired many members to join the effort to increase arthritis awareness, this year's award went to Lisa Robbins, BSN, RN, CPN, clinical care manager at PennState Health, Hershey, Pa.
"Pediatric rheumatology nurses are far and few between," says Ms. Robbins. "For many years, the ARHP was the only, and certainly the most reliable, source of outcomes-based information specific for us. Participating in ARHP activities has supplied the bulk of my formal pediatric rheumatology education and networking with peers is invaluable."
ADVERTISEMENT
SCROLL TO CONTINUE
Ms. Robbins graduated from Cedar Crest College, Allentown, Pa., in 1986 with a Bachelor of Science in nursing. For the past 27 years, she has worked at PennState Health. Initially, she served as the clinical head nurse in Pediatric Intermediate Care and then in 1995, moved to Pediatric Rheumatology, where she is now the clinical care coordinator. Throughout the years, she has watched the practice grow from one pediatric rheumatologist and nurse to six pediatric rheumatologists, a nurse practitioner, two fellows and four nurses.
For the past 21 years, she has been an active ARHP member and served in a variety of different roles at the association's meetings—session moderator, networking table leader and poster, panel and podium presenter, and abstract reviewer. She previously served on the Pediatric Rheumatology Collaborative Study Group.
ADVERTISEMENT
SCROLL TO CONTINUE
She has completed the pediatric and adult modules of the ARHP's Advanced Rheumatology Course, which mostly targets nurse practitioners and physician assistants. It includes 19 modules on topics ranging from medications to radiology and physical exams. At the time, she says it was the only "benchmark" course that helped her assess her level of knowledge against others in the field.
She also takes advantage of the ARHP's nurse listserv to conduct minor research surveys and collaborate with member nurses about patient care, drug or treatment side effects, insurance authorizations and other issues related to patient care. Recently, she was nominated to serve on the ACR's Government Affairs Committee, which supports a long agenda that includes advocating for patient care to members of Congress, soliciting government research dollars and pushing for insurance coverage of new or existing treatments and medications.
What makes this award so unique for Ms. Robbins is that she has known Ann Kunkel for many years, is very familiar with her work and deeply respects her contribution to rheumatology.
ADVERTISEMENT
SCROLL TO CONTINUE
"Years ago, I worked at many Arthritis Foundation activities together with Ann Kunkel," says Ms. Robbins. "My endeavors embody her spirit to advocate for patients and their families. Knowing her and her passion to help families [cope with] arthritis makes this award that much more gratifying."