Since 1997, he has been the director of rheumatology clinical services at UAB. He is the clinical co-director for UAB's musculoskeletal and skin organ module, and a past recipient of the ACR Clinician Scholar Educator Award, which he credits as instrumental in helping him develop UAB's integrated musculoskeletal curriculum.
"There is always something new to learn and new knowledge to apply" in rheumatology, Dr. Chatham says. "That is probably true for any medical specialty, but I think this has been particularly true for rheumatology the past three decades—and will likely continue for the next three."
ADVERTISEMENT
SCROLL TO CONTINUE
Q: What of your work in rheumatology fulfills you most?
A: It's twofold: seeing your trainees succeed and evolve into excellent clinician–scientists, and [receiving] gratitude from patients you have cared for over a 20–30-year time frame.
ADVERTISEMENT
SCROLL TO CONTINUE
Q: What is the role of mentorship in the field?
A: For the mentee, it's helping one develop a focus and yet be mindful of the overall context, pointing out potential pitfalls and facilitating helpful contacts. For the mentor, it would be being challenged by new ways of thinking about old paradigms.
Q: So what advice do you have for the next generation of rheumatologists?
ADVERTISEMENT
SCROLL TO CONTINUE
A: Stay focused on patient primacy, engage learning habits that will keep you informed of new scientific developments and their applications, and be mindful of work–life balance such that your endeavors are not at the expense of your own well-being.
ACR Paulding Phelps Award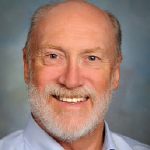 W. Patrick Knibbe, MD
Director of Children's Rheumatology, St. Luke's Health Systems, Boise, Idaho
Background: Dr. Knibbe understands that receiving the Paulding Phelps Award, which honors service from a clinical rheumatologist, means his job is not just medicine. It's giving back.
"I always thought that the first part of your career, you are mentored, and then you kind of did your craft and you honed it, and then you passed on words of wisdom," he says. "That's where I am in my career … nurturing a number of other people who are trying to find the right path in medicine."
If their path follows Dr. Knibbe's, those people will be just fine. He earned his medical degree from the University of Utah in 1976 and completed his residency at the University of Iowa. He has worked in pediatric rheumatology since, in Utah, Idaho and Seattle, where he remains an attending physician in the Pediatric Rheumatology Division at Seattle Children's Hospital. Dr. Knibbe established the Association of Idaho Rheumatologists in 2002 and has served as its president.