He was a co-editor of the Knowledge+ assessment modules developed by XI; an assistant editor of its weekly clinic-pathologic cases; and co-editor of a pending textbook on neuro-rheumatology, the first of its kind. He is also completing his term as physician editor of The Rheumatologist.
Q: You've noted the work–life balance of being a rheumatologist is appealing today. Why?
ADVERTISEMENT
SCROLL TO CONTINUE
A: In the past, some people chose specialties in terms of remuneration. Certainly, as rheumatologists, we cannot compete with the higher-paying specialties. But in terms of quality of life, surveys consistently show us being at the top or very near the top of which doctors are happiest. I think that matters to a lot of people now in medicine. They want something that's going to make them happy, that's going to be rewarding.
Q: Does the maturation of treatment options available to rheumatologists help, too?
ADVERTISEMENT
SCROLL TO CONTINUE
A: That has also had an impact. I think in the past people looked at rheumatology and thought it was stagnant in terms of biotherapeutic treatment options. And now that's completely changed. If you look at the top 10 selling drugs in terms of revenue, probably more than half of them belong to rheumatology. It just shows you there is an incredible level of interest that happens because of the big breakthroughs we've had.
Q: Does rheumatology need more scientists, clinicians or both?
A: We need everybody. We are fewer than 5,000 rheumatologists. We have several hundred allied professionals working with us, but even when you add up all the numbers, we're still woefully short of what we need. I will take a rheumatologist of any shade or stripe.
ADVERTISEMENT
SCROLL TO CONTINUE
ACR Henry Kunkel Young Investigator Award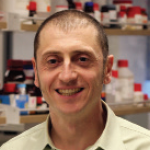 Nunzio Bottini, MD, PhD
Professor of Medicine, Division of Rheumatology, Allergy and Immunology, University of California San Diego (UCSD)
Background: Some people read a Dan Brown novel and get hooked on mystery thrillers. Dr. Bottini read a few papers from rheumatologist–scientists and got hooked on a profession.
"My scientific training was focused on immunogenetics and signal transduction," he says, "and reading the papers of three well-known rheumatologist–scientists sparked my admiration for this specialty."
Born in Rome, Dr. Bottini earned his medical and doctoral degrees from the University of Rome Tor Vergata. He also completed his residency and a fellowship in Allergy and Clinical Immunology there before immigrating to the United States for postdoctoral research training in biochemistry and signal transduction at the Sanford-Burnham Medical Research Institute in La Jolla, Calif. He later completed a clinical fellowship in rheumatology at UCSD.