Q: Why is service to others important to you when you could just as easily go in, do the job, go home?
A: If you're not paying attention to the greater community, doing acts to try to get better coverage for medications and better insurance plans for the general population, you're … making widgets instead of trying to make things better for the entire system.
ADVERTISEMENT
SCROLL TO CONTINUE
Q: When you look back at your own career, where does this honor rank as an accomplishment?
A: I took a look at the list of people who won this award previously, and they are the folks that I most respect in rheumatology. I respect the brilliant researchers and the brilliant teachers at the universities so much, but the folks who have won this award before have been folks like me, who have been putting in the time, taking care of patients, advocating for their patients and really raising the bar in rheumatology for everyone. And it's just really humbling to me.
ADVERTISEMENT
SCROLL TO CONTINUE
Q: If you could wave a magic wand and mentor everyone to do X, what would X be?
A: We all got into medicine to study the science and use it to help people. I don't think there's an appreciation of just how amazing the science is in rheumatology now. If I could do one thing, it would be to be one of those incredible communicators who could go back to medical school and sell the excitement about helping people with these terrible diseases.
ACR Excellence in Investigative Mentoring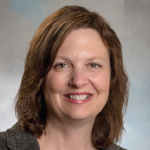 Elizabeth Karlson, MD, MS
Professor of Medicine at Harvard Medical School, Boston; Director of the Rheumatic Diseases Epidemiology Research Program, Brigham and Women's Hospital, Boston
ADVERTISEMENT
SCROLL TO CONTINUE
Background: Thanks to her mentor, Dr. Karlson asks herself one question when designing a study: What would the headline of an article in The New York Times about the research say?
The idea is to focus research on the most important questions and craft studies that, accordingly, reach important conclusions. It's fair to say that Dr. Karlson has now been successfully answering the question for nearly a quarter-century.
"I have conducted patient-oriented and translational research in rheumatic diseases over the past 23 years," Dr. Karlson says. "I have expertise in rheumatic disease epidemiology and outcomes research, genetics, gene-environment interactions and the use of bioinformatics to define phenotypes in the electronic medical record."
Dr. Karlson is passionately focused on rheumatic disease epidemiology and predictive models for development of rheumatoid arthritis (RA). In particular, her interests target