"We understand now that autoimmunity, while undesirable, is probably an intrinsic consequence of how the adaptive immune system is generated, and it's usually held in check by regulatory systems," he says. "The lesson from treating advanced malignancy with immune checkpoint inhibitors reveals that almost anybody can develop an autoimmune disease and what prevents it is a properly functioning regulatory system.
"I think that's where our new developments in rheumatic disease therapy are going to come from."
ADVERTISEMENT
SCROLL TO CONTINUE
Q: Why do you tell mentees to become comfortable in the language of the scientific basis of rheumatic disease?
A: If you're not versed in science and able to analyze what's going on, you're always in the thrall of the last person that told you how to do it. So if a drug company says, 'Well, this is going to cure it …' You need to understand the science to appreciate what you're doing to the patient and to their disease.
ADVERTISEMENT
SCROLL TO CONTINUE
Q: What is the value of mentoring?
A: To make advances in the evolving art and science of medicine requires commitment and motivation. A good mentor provides an example of how to successfully approach the challenges, endows the next generation with the technical skills and knowledge to advance understanding and provides the example of a psychologic framework of how to see progress and fulfillment rather than frustration in these challenges.
Q: Will there be less dramatic scientific advances moving forward?
ADVERTISEMENT
SCROLL TO CONTINUE
A: No, it's still a profound revolution. I'm ever optimistic that additional advances will take place, making our current state of knowledge of disease seem as primitive as the technologies I used early in my career.
ACR Distinguished Fellowship Program Director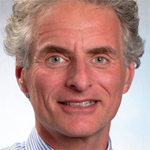 Simon Helfgott, MD
Associate Professor of Medicine, Divisions of Rheumatology and Immunology and Medical Communications; Director of Education and Fellowship Training, Division of Rheumatology, Brigham and Women's Hospital (BWH), Boston
Background: Rheumatology has always had a personnel shortage, but Dr. Helfgott says he has hope for the future.
"Our application pool this year is the strongest it's ever been, attracting people who are interested in clinical rheumatology, in bench research and in clinical research," he says. "I think the challenges are there, because we are not a high-profile specialty, but we do attract smart people who are interested in the bedside approach to medical inquiry, which is really what rheumatology is. We solve problems. We're detectives."
Dr. Helfgott graduated from McGill University Faculty of Medicine. He completed his residency at Montreal General Hospital followed by one year of rheumatology fellowship training in the combined McGill University program. He then spent five years as a fellow in rheumatology and immunology at BWH. He's been the fellowship director there since 2004.