From a scholarship that allowed her to attend Annual Meetings to exposure to state-of-the-art clinical symposiums, the ACR has shown her a career path.
"Through these meetings, I have been able to expand my rheumatology knowledge and meet colleagues throughout the country and world," she says.
ADVERTISEMENT
SCROLL TO CONTINUE
Dr. Fox earned her medical degree from the University of Nebraska Medical Center in Omaha, Neb., and completed her pediatric residency training at Children's Mercy Hospital in Kansas City, Mo. She's in her third year of pediatric rheumatology fellowship at Stanford Children's Health while also working on a Master's of Science in epidemiology and clinical research at Stanford University. In particular, she is working on a global project involving patients with dual diagnoses of systemic JIA and inflammatory bowel disease.
Dr. Fox is a very active member of the Pediatric Rheumatology Care and Outcomes Improvement Network (PR-COIN) and has represented the Stanford division at the biannual meeting for several years. She is also a member of the Childhood Arthritis and Rheumatology Research Alliance (CARRA), serving on the Fellows Leadership Committee for the past two years.
ADVERTISEMENT
SCROLL TO CONTINUE
Q: You have a strong interest in JIA. Why?
A: I have had some interesting and complex patients with a diagnosis of JIA. I also have an interest in patient-reported outcomes and have become involved with PR-COIN during fellowship, which specifically looks at the quality of care and outcomes in JIA patients.
Q: Working with children can be difficult for some people. What is the appeal for you?
ADVERTISEMENT
SCROLL TO CONTINUE
A: Working with children can be challenging as they cannot always verbalize their complaints. However, it is incredibly rewarding taking care of children and watching them improve and developing the therapeutic bond with patients and their families.
Q: What is it about rheumatology that keeps you so engaged?
A: No two patients are alike, and I enjoy the complexity of the diseases we treat. I also have had the opportunity to explore my research interests, which have been sparked by patients I have treated during my fellowship.
Q: Three years in, what's your best advice to the next generation of fellows?
A: Seek out mentors early to help guide and maximize your time in fellowship.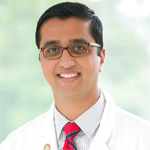 Pravitt Gourh, MD, Henry Metzger Scholar in Translational Medicine, National Institute of Arthritis and Musculoskeletal and Skin Diseases (NIAMS), National Human Genome Research Institute (NHGRI), National Institutes of Health (NIH), Bethesda, Md.
Background: India to Texas isn't exactly a nonstop flight.