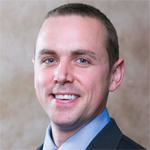 Kenneth Van Dyke, DO, Rheumatologist, Adena Health Systems, Chillicothe, Ohio
Background: Dr. Van Dyke worked as a registered nurse for two years before pursuing a career in medicine. After earning his DO, he completed internal medicine training at Riverside Methodist Hospital in Columbus, Ohio. There he began to think of rheumatology as a career choice, and he embarked on a fellowship at Louisiana State University Health Science Center in New Orleans.
ADVERTISEMENT
SCROLL TO CONTINUE
At LSU, Dr. Van Dyke fostered his interest in rheumatology by presenting clinical cases at local conferences. His abstracts were chosen for podium presentations at LSU Research Day during both years of his fellowship. His presentation of a case of crusted scabies in a patient with active lupus was published in The Rheumatologist.
Two years in a row, his poster abstracts were accepted at the Clinical Congress of Rheumatology. In 2014, he presented a case on a limb girdle muscular dystrophy type 2B, a clinical case he is submitting for publication. He also was part of the team that placed third at the ACR "Knowledge Bowl."
ADVERTISEMENT
SCROLL TO CONTINUE
"The field is evolving at a rapid pace," he says. "Every day, there is new information and a better understanding of diseases. I continuously find myself reading and finding new information to pass on to my patients."
Dr. Van Dyke is working in private practice at Adena Health System, providing care to rural communities in Southern Ohio.
Q: What do you like most about your job?
ADVERTISEMENT
SCROLL TO CONTINUE
A: Working together, with the patient, to teach them about their condition. As rheumatologists, we are often educating the patients on what disease they have, as well as reassuring patients about what they do not have. In both of these situations, I try to do my best to alleviate fears and provide the best information for them.
Q: What lessons did you learn from your mentor?
A: Whether one's career will be in academics or as a clinical rheumatologist, a mentor is very valuable. When I was in training, preparing for a career in clinical medicine, my mentors always emphasized proving a diagnosis to myself and not just accepting diagnoses that are already made for me.
Q: How do you want others to remember your work in this field?
A: I want to be remembered as a physician that colleagues, staff and patients can count on and trust.
Q: What does the ACR mean to you?