A: I'm the guy who likes to work behind the scenes; the one who helps the system run more smoothly. So when my life's work is finally complete, I hope that I'll have left behind a system where our clients get quality, prompt care that is appropriate for their needs. I also hope that the tools we're currently working on creating will help clients be more empowered.
Q: What has ARHP meant to you?
ADVERTISEMENT
SCROLL TO CONTINUE
A: I remember being awestruck when attending my first Annual Meeting and [serving] on my first committee. I was seeing the people who were writing the articles that I was using to help improve my practice. After getting past being dumbfounded, I found most, if not all, of these individuals were down to earth, supportive, helpful and open to hearing what I had to say. Over time, I've realized that the ARHP is one large, extended family.
Q: What is the most fulfilling part of your job?
ADVERTISEMENT
SCROLL TO CONTINUE
A: I am fortunate to work for an organization that values and supports continuous quality improvement. For example, I have a strong interest in models of care, and with one of these teams, we've begun to explore a stepped-up approach that provides quality care yet addresses some of the issues our program has with long waiting lists. Thus, the fulfillment comes from working with talented colleagues, being challenged and supported to improve care, and having workdays balanced between daily routine and new projects.
ARHP Addie Thomas Service Award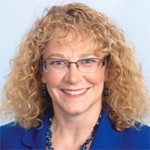 Donna Everix, MPA, PT, Physician Liaison for Mills-Peninsula Health Services, Burlingame, Calif.
Background: When you're nearing 30 years of experience in physical therapy, it might seem hard to get motivated each day. Meet Ms. Everix, who's still plugging along as a champion for early intervention and rehabilitation to help prevent degenerative changes and disabilities so often associated with rheumatic diseases.
ADVERTISEMENT
SCROLL TO CONTINUE
"Twenty-five years ago when I finished PT school, the care focused on rest and inactivity so you [wouldn't] aggravate the joints," she says. "What we found through research was that the inactivity was part of the issue and not just the disease process. … I decided not many people were educated about this and took it on as one of my lifelong responsibilities to promote awareness and the need to educate patients and healthcare providers."
Mission accomplished. Her accomplishments include numerous committee assignments for ACR and ARHP. She worked with the American Council on Exercise to help develop the Fitness Professional's Guide to Training Clients with Osteoarthritis. She wrote the first Walk with Ease Program for the Arthritis Foundation and also consulted with the group on a yoga-based video and water exercises.
Taking care of your body & adapting over time to disease pathology & lifestyle activities are similar to taking your car in for service intermittently to make sure it keeps running smoothly & as efficiently as possible. —Donna Everix
Q: You were recruited by a mentor to start an arthritis center at Mills-Peninsula. What did that teach you about mentorship?