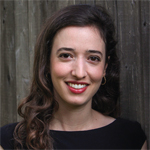 Sara Tedeschi, MD, Clinical Research Fellow in Rheumatology, Brigham and Women's Hospital (BWH), Boston
Background: Dr. Tedeschi's interest in lupus began during her internal medicine residency and continued during her fellowship training, when she collaborated with Drs. Karen Costenbader and Bonnie Bermas on an investigation into rheumatologic and obstetric outcomes of women at the BWH Lupus Center.
ADVERTISEMENT
SCROLL TO CONTINUE
At the 2014 ACR/ARHP Annual Meeting, she presented highlights of the association between lupus activity in the six months before conception and continued or worsened activity of the same type during pregnancy. Results were published in Lupus.
At the 2015 meeting, she presented an analysis of adverse pregnancy outcomes in relation to specific types of lupus activity before and during pregnancy. Also at the 2015 meeting, she presented an analysis regarding the risk of RA. "We looked at how the combination of [elevated BMI and the presence of ACPAs] affected the risk of developing RA in the Nurse's Health Study, a very large, prospective cohort of female nurses," she says. "We found that when these two risk factors were present together, the risk of RA was magnified about eightfold."
ADVERTISEMENT
SCROLL TO CONTINUE
After graduating Brown University, she earned her medical degree at Vanderbilt and completed her internal medicine residency at BWH. She is on track to receive her master's degree from the Harvard School of Public Health in May. During her fellowship, she also created an RA diagnosis and management guide for providers at the Northern Navajo Medical Center in Shiprock, N.M.
Q: Why rheumatology?
A: It's an incredibly interesting field. … For many of the conditions that we treat, we see our patients for years, and I really enjoy building those relationships. I also have a strong interest in clinical research and so it seemed like an excellent fit, both because of the patient care component and for the opportunity to perform impactful research.
ADVERTISEMENT
SCROLL TO CONTINUE
Q: Where do you want to be in 5–10 years?
A: I hope to establish myself as a clinical researcher and, ultimately, to progress toward becoming an independent investigator. I look forward to developing a panel of patients who I care for over many years and who provide inspiration for my clinically oriented research.
Q: What role do mentors play for you?
A: I've been incredibly fortunate to have two fantastic research mentors during fellowship. Dr. Karen Costenbader has been my primary mentor since my residency and throughout fellowship, and Dr. Dan Solomon has become a mentor during my fellowship. I look to them to guide me toward research questions that are worthy of intense study, and that will contribute knowledge to our field. Even as my skills have grown through my MPH coursework, I continue to turn to Karen and Dan for advice regarding how to plan and perform analyses, to review my progress, and to make suggestions about different approaches I hadn't considered.